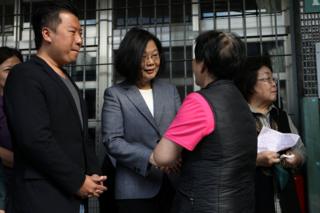 Taiwan's President Tsai Ing-wen says she is quitting as leader of the governing Democratic Progressive Party (DPP) after mayoral election defeats.
"Our efforts weren't enough and we let down all our supporters," she said.
Taiwan's media report that the pro-independence DPP is likely to lose nearly half of the 13 cities and counties it won in 2014.
Taiwan's relations with China have deteriorated since Ms Tsai came to power in 2016.
Beijing has refused to deal with her because she does not recognise an agreement reached between the two sides in 1992 that both sides are part of one China.
That has heightened military tension, led to a loss of Taiwan's diplomatic allies and hurt the economy, the BBC's Cindy Sui in Taipei says.
On Saturday, Taiwan was also voting in a referendum on whether to become an Asian first and legalise gay marriage.
Its top court has ruled in favour of same-sex marriage, giving parliament two years to amend laws or pass new ones.
But preliminary results suggest that the island voted against the change.
Taiwan's President Tsai quits as ruling party boss after poll setback}