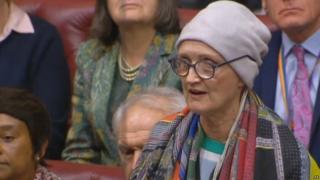 Tessa Jowell was the "best of us", Commons Speaker John Bercow has said as he led tributes to the late Labour politician and cancer campaigner.
He told MPs her death at the age of 70 left Parliament "infinitely poorer".
She was a "stellar, progressive change-maker" who had a "well of practical compassion without rival", he said.
Theresa May said she was an "extraordinary politician, colleague and campaigner" who fought her illness with incredible courage and spirit.
Mrs May, who announced earlier that investment in research into tackling brain cancer is to be doubled to £40m in tribute to Baroness Jowell's life, said her legacy would "live on".
Praising the former cabinet minister and MP for Dulwich and West Norwood as a "human being first and a politician second", Mrs May said no-one who watched her make her final speech in the House of Lords in January about living with cancer and the need for innovation in research and treatment would ever forget it.
Health Secretary Jeremy Hunt said after her diagnosis a year ago Tessa Jowell had persuaded him and other ministers of the need to "tear up" the government's policy on brain cancer and to "start again".
It was his hope that the Dame Tessa Jowell Brain Cancer Research Mission, which is to receive £25m from Cancer Research UK, would boost research into and improve treatment of this "most challenging of cancers".
Both the prime minister and Labour leader Jeremy Corbyn praised her role in bringing the Olympic and Paralympic Games to the UK in 2012.
Mrs May said it would not have happened without her, while Mr Corbyn said she had played a "pivotal" role in coaxing what he said had been a reluctant prime minister and civil service into bidding for the event.
Mr Corbyn said she would be remembered for her "passion, sense of social justice and fun in dealing with people", concluding "she taught us how to live and she also taught us how to die."
Paying tribute to her role in establishing the Sure Start centres for young families, former Labour deputy leader Harriet Harman said it reflected both her love of family but also her belief the "personal and the political were totally intertwined".
Remembering her "unique personal style", which she summed up as her commitment to befriending the powerless but also her knack of persuading the powerful to help those less fortunate, she said she was "no softie" and knew how to get things done.
"People always said she was so charming and nice but there was steel behind those clear blue eyes."
Labour MP Dame Margaret Hodge said as well as being a committed feminist over four decades, she was also "incredibly feminine" with enduring style, a "people focused politician who showed awesome courage".
"Tessa touched countless people's lives while she lived. Their experience will form part of the legacy she leaves behind and we salute her and celebrate who she was and what she achieved."
Tessa Jowell was the best of us – Speaker John Bercow}