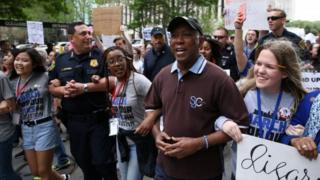 The police chief of Houston says he has hit "rock bottom" over failure to enact gun reforms after a school shooting in nearby Santa Fe left 10 dead on Friday.
Chief Art Acevedo wrote on Facebook that he had "shed tears of sadness, pain and anger" over the shooting.
He condemned elected officials who "called for prayers, and will once again do absolutely nothing".
The shooting was the latest in a series of deadly incidents across the US that has reignited debate about gun control.
Chief Acevedo runs the police department of America's fourth most populous city, Houston, which lies nearly 40 miles (64 km) north-west of Santa Fe.
Police now say eight students and two teachers were killed, with 13 others wounded in the attack on the Santa Fe High School on Friday. Among the dead are a Pakistani exchange student and substitute teacher.
Dimitrios Pagourtzis, 17, has been charged with murder after surrendering to police.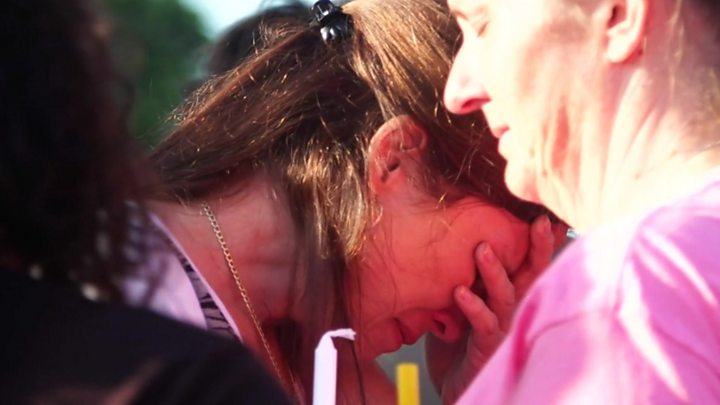 It was the fourth deadliest shooting at a US school in modern history, and the deadliest since a student opened fire in February at Marjory Stoneman Douglas High School in Parkland, Florida, killing 17 people.
The Florida attack spawned a nationwide youth-led campaign for gun control, and a series of proposed changes, including moves to ban so-called bump stocks used in last year's Las Vegas shooting that killed 58 concert-goers.
"I know some have strong feelings about gun rights but I want you to know I've hit rock bottom and I am not interested in your views as it pertains to this issue. Please do not post anything about guns aren't the problem and there's little we can do," Chief Acevedo said in his Facebook post.
"This isn't a time for prayers, and study and inaction, it's a time for prayers, action and the asking of God's forgiveness for our inaction (especially the elected officials that ran to the cameras today, acted in a solemn manner, called for prayers, and will once again do absolutely nothing)," he added.
In just a few hours, his post had received more than 22,000 reactions and 12,000 shares.
Chief Acevedo first spoke out about gun control in the aftermath of the Las Vegas shooting last October, and was a prominent figure in Texas's March for Our Lives demonstration following the Florida attack earlier this year.
Texas shooting: Houston police chief 'hits rock bottom' on gun reform