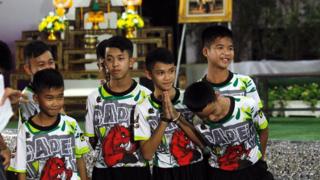 One of the 12 boys rescued from a flooded cave in northern Thailand this month has described the "moment of miracle" when divers found them.
Adul Sam-on, 14, the only member of the junior football team who speaks English, could only say "hello" when the two British divers surfaced.
"I was stunned because they were English so I said 'hello'," he said.
The boys, who were underground more than two weeks, left hospital earlier on Wednesday and are on their way home.
But first they are giving details of their ordeal in the the Tham Luang caves at a news conference in Chiang Rai.
They appeared on stage in their football kit, alongside members of the Thai Navy Seals who had helped rescue them.
Chiang Rai's provincial governor, Prachon Pratsukan, said this would be the boys' "only official media interview", saying that there would "be no more speaking with the press after this".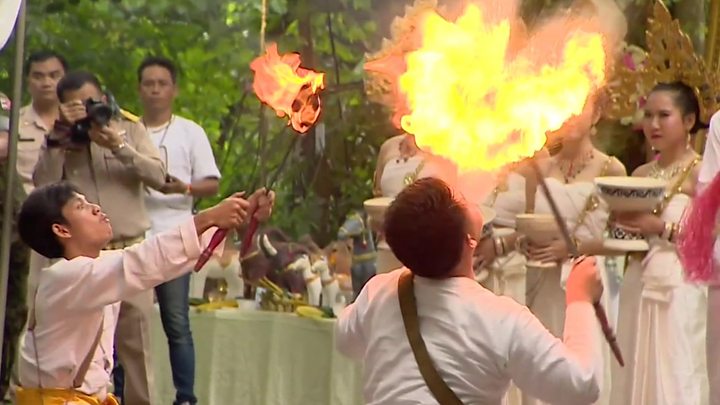 Questions submitted by journalists were vetted ahead of time, and have been screened by a child psychiatrist to ensure they do not distress the boys.
There are also plans for the boys to be ordained as Buddhist monks for a short period of time, a tradition for males in Thailand who have experienced a misfortune.
How did the boys get trapped in the cave?
They entered the Tham Luang cave in the northern district of Chiang Rai on 23 June during an excursion with their coach.
They had planned to be there for only an hour but found themselves trapped after a sudden bout of heavy rain flooded the cave complex, blocking their only way out.
Their parents soon informed officials they were missing, and a search and rescue operation began.
Nine days passed before the boys were found by two British rescue divers.
But elation quickly turned to concern as it became clear just how difficult it would be to rescue boys who could not swim and had been weakened by their time underground with little food or light.
The dangers of the journey were underscored by the death of a former Thai Navy Seal diver, Saman Gunan, who died while taking oxygen tanks into the cave complex.
How did they get out?
A team of expert divers guided the boys and their coach through darkness and submerged passageways towards the mouth of the cave system.
Each boy was accompanied by a divers who also carried his air supply. The boys wore full-face masks, which are easier for novice divers than traditional respirators.
Sources in the rescue operation, including divers who took part, told the BBC that the boys were heavily sedated ahead of the rescue to prevent them panicking in the dark, tight, underwater passageways.
Getting to and from the trapped group was an exhausting round trip, even for experienced divers. The process involved a mixture of walking, wading, climbing and diving along guide ropes.
The boys were rescued in stages – with four boys coming out on Sunday, another four on Monday and the final four plus their coach on Tuesday.
All 13 were transferred to the hospital in Chiang Rai where they received medical and psychological assistance. They are all said to be recovering well.
However, they will be watched for signs of psychological distress, which may only become evident in the months to come.
The boys have been advised against giving media interviews, which experts say could trigger a post-traumatic reaction.
Who are the boys and their coach?
Captain Duganpet Promtep, 13, is described as a motivator and highly respected by his teammates. He had apparently been scouted by several Thai professional clubs.
It was 17-year-old Peerapat Sompiangjai's birthday when the group became trapped in the cave. The snacks the boys brought with them to celebrate are likely to have helped them survive their ordeal.
Assistant coach Ekapol Chantawong, 25, was said to be the weakest of the group when they were found, as he had reportedly refused to eat any of the food and gave it instead to the boys.
Thai cave rescue boys relive 'moment of miracle'