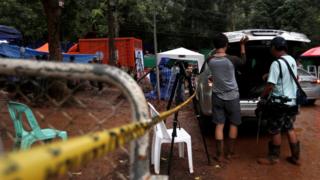 Thai authorities have begun an operation to rescue 12 boys and their coach from the cave where they have been trapped for two weeks.
Rescue teams entered the cave at 10:00 local time (03:00 GMT), an official said at a news conference.
Earlier in the day, all non-essential staff were evacuated from the site, leaving only diving teams, medics and security forces at the site.
The boys were exploring the cave on 23 June when they were cut off by water.
Thirteen foreign divers and five from the Thai Navy are involved in the rescue mission.
The earliest the first boys could emerge is 21:00 local time (16:00 GMT) on Sunday, according to the officials, who added that both the trapped group and their families had been informed of the plan.
It is unclear exactly how the boys will be moved.
Thailand cave rescue: Mission to save boys under way