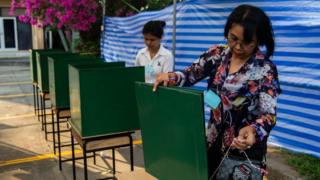 There is confusion in Thailand over the results of the first election in the country since the army took power in a coup in 2014.
The Election Commission (EC) initially said the pro-military party, the Palang Pracha Rath Party, was leading the popular vote.
That would position it to form a government under the current prime minister, General Prayuth Chan-ocha.
But there are growing complaints about irregularities and inaccurate data.
Late on Sunday, after polls closed, the EC had said that with more than 90% of ballots counted, the Palang Pracha Rath Party (PPRP) had gained 7.6m of the popular vote – half a million more than Pheu Thai.
Pheu Thai is linked to former Prime Minister Thaksin Shinawatra, whose loyalists have won every election since 2001.
But several local media reports, citing figures from the EC, had different results for the number of MP seats each party had won.
In a press conference on Monday, where it was expected to clarify the preliminary results, the EC instead delayed announcing them and said the full official results would come on 9 May.
More than 50 million people were eligible to vote in a much-delayed election, the first since Gen Prayuth Chan-ocha led the coup that ousted Mr Thaksin's sister, Yingluck Shinawatra, five years ago.
But the reported turnout was unexpectedly low, at just 64%. Many questioned this figure as well as discrepancies in the vote count numbers.
Speaking to journalists, EC Secretary-General Charungvith Phumma blamed "human error", saying the people who put the numbers of votes in were just regular people.
Despite a lack of official results, both Pheu Thai and PPRP have declared their intentions to form a coalition government.
This election was held under new rules which were implemented by the military government and seen by many as a way to transition itself into a civilian government – keeping Gen Prayuth firmly in power.
Thailand election: Confusion as results of post-coup vote delayed}