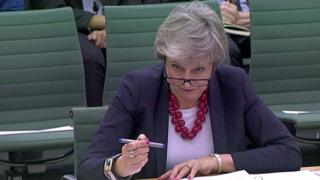 Theresa May has refused to speculate about what she will do if MPs vote down her Brexit deal on 11 December.
She said she wanted MPs to "focus on the choice that lies in front of them" and ignore other potential options.
She described calls for another referendum or delaying 29 March's departure date as attempts to "frustrate" Brexit.
The prime minister is appearing before the liaison committee of select committee chairs.
She said if MPs "voted down" her deal "then obviously decisions would have to be taken" and planning for a no-deal Brexit would be stepped up.
Labour is hoping to force a general election or, failing that, another referendum, if, as currently widely expected, MPs reject Mrs May's deal.
Labour MP Rachael Reeves asked the prime minister whether she agreed with an analysis that the UK would be £100bn worse off over 10 years than it would have been if the UK stayed in the EU.
The prediction was included in a recent study from the National Institute of Economic and Social Research.
Mrs May said she wanted to emphasise that the analysis did not show Britain being poorer than it is now, and that all analyses show the economy continuing to grow, albeit at a lower rate.
She added that "being inside the EU is not an option" because "people have voted to leave".
Labour seek to change focus of vote
Labour has tabled an amendment to the vote on 11 December calling on MPs to reject Mrs May's "bad" Brexit deal.
It also calls on MPs to prevent "the chaos of the UK crashing out of the EU without a deal" and to "keep all options on the table to protect the UK from a no deal scenario, with a general election as the best outcome for the country".
Leader Jeremy Corbyn said: "Labour will oppose Theresa May's botched Brexit deal that puts jobs, rights and people's livelihoods at risk.
"There is a sensible deal that could win the support of Parliament, based on a comprehensive customs union, with a British say in future trade deals, and a strong single market deal that protects rights at work and environmental safeguards and helps us to rebuild our economy and expand our public services."
If Labour fails to get MPs' backing for its Brexit proposals or a general election the party has said it will seek support for another referendum.
Meanwhile, at the European Parliament
The EU's chief Brexit negotiator Michel Barner has said Mrs May's Brexit plan "is the only possible deal".
He told the European Parliament: "We are not at the end of the process, which is going to go on being difficult."
He said he would "respect" the democratic debate in the UK, adding that British MPs would be considering a text "where the future of their country is at stake".
Theresa May: My focus is on getting Brexit deal passed}