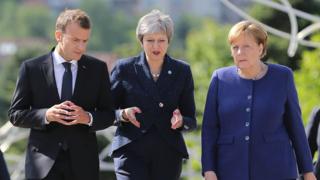 Theresa May is pledging her commitment to the security of Europe at a meeting of EU leaders in Bulgaria.
The PM said the UK will "continue to work with our allies to protect our collective security" after Brexit.
Mrs May has met with Germany's Angela Merkel and France's Emmanuel Macron as part of the EU-Western Balkans summit in Sofia.
Later, Mrs May will become the first UK prime minister in almost 20 years to visit Macedonia.
The PM said: "This year, as we mark the 25th anniversary of the diplomatic relations between Macedonia and the UK, the ties between our countries are stronger than ever.
"Next year the UK is leaving the European Union, but we are not leaving Europe – and we will continue to work with our allies to protect our collective security and champion the European values that so many in Macedonia and the wider Western Balkans share."
Mrs May is due to meet the Macedonian prime minister, Zoran Zaev, in the capital Skopje.
The last British leader to visit the country was Tony Blair in 1999.
Downing Street said the talks would look to help strengthen democracy in the former Communist country.
Mrs May and Mr Zaev will also discuss the ongoing dispute with Greece over the country's name – a northern area of the country is also called Macedonia, and Greece has been calling for a name change since 1991.
Mrs May is also due to meet with local LGBT activists to mark the International Day Against Homophobia, Transphobia and Biphobia.
Theresa May security pledge at EU summit