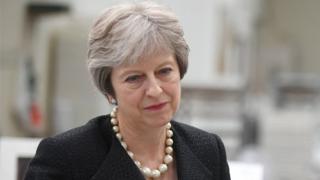 The UK's new Brexit plan agreed at Chequers will deliver for Northern Ireland, the prime minister is expected to say in a speech on Friday.
Theresa May will give the address at Belfast's Waterfront Hall on Friday morning.
It forms part of a two-day visit to Northern Ireland focussing on Brexit and the stalemate at Stormont.
The Brexit negotiations are at a crucial stage, with the Irish border being a key sticking point.
The UK and EU have both agreed that there should be no hard border in Ireland after Brexit, but are at odds on how to achieve it.
The EU has proposed a backstop that would mean Northern Ireland staying in the EU customs union, large parts of the single market and the EU VAT system.
However, the UK said that would effectively create a border down the Irish Sea.
Mrs May has repeatedly voiced her opposition and on Friday is due to do so again, saying: "The economic and constitutional dislocation of a formal 'third country' customs border within our own country is something I will never accept and I believe no British prime minister could ever accept."
'Do not accept that legal text'
Northern Ireland Secretary Karen Bradley told BBC's Good Morning Ulster programme the government was committed to getting a legal text for a backstop.
Earlier the Irish Tánaiste (deputy prime minister) Simon Coveney had tweeted that if the UK did not accept the EU wording on a backstop in the draft withdrawal agreement, they would have to propose an alternative that would deliver the same result.
Reacting to his comments, Mrs Bradley said while the EU had put forward a legal text, "we do not accept it".
"We've put forward a counter proposal and we're now working on how we get a backstop that we are committed to delivering but it has to be a backstop that respects the integrity of the whole UK and does not put a border in the Irish sea."
"We are committed to getting a legal text for a backstop, if you want to call it that, that we can all agree with, but this is the insurance policy.
"What we really want to focus on is the overall relationship, the deep and special partnership we want to see with the EU in the future, which is set out in the White Paper following the Chequers agreement."
Earlier this week, the government backed an amendment to its Customs Bill that would make it illegal for Northern Ireland to be outside the UK's customs territory.
EU and UK negotiators have been meeting in Brussels this week to discuss the border issue.
On Thursday, the UK's new Brexit secretary Dominic Raab had his first meeting with the EU's chief negotiator in Brussels.
He described the meeting as "constructive" and offered to meet Michel Barnier throughout August to "intensify" talks and "get some energy" into them.
In her speech in Belfast, Mrs May will say now it is for the EU to respond and not fall back on proposals that are unworkable.
She is expected to say the EU needs to "evolve its position in kind," adding that "on that basis, I look forward to resuming constructive discussions".
Mrs May is also likely to reiterate that it is the government's duty to ensure that the outcome of Brexit works for the whole of the UK, including Northern Ireland.
"For all of us who care about our country, for all of us who want this union of nations to thrive, that duty goes to the heart of what it means to be a United Kingdom and what it means to be a government," she will say.
"Our job is not to deal with Brexit in theory, but to make a success of it in practice for all of our people."
Mrs May has also been meeting the five main Stormont party leaders during her visit to Northern Ireland to discuss Brexit and the political deadlock at Stormont.
Northern Ireland has been without a government for 18 months, after power-sharing between the Democratic Unionist Party (DUP) and Sinn Féin collapsed.
The prime minister met DUP leader Arlene Foster in Fermanagh on Thursday evening, as well as the deputy leader of the Social Democratic and Labour Party (SDLP), Nichola Mallon.
Mrs May will talk to political representatives from Sinn Féin, the Ulster Unionist Party (UUP) and Alliance on Friday morning, before meeting young people to hear their views on Northern Ireland's future.
She will then give her speech on Brexit at the Waterfront Hall in Belfast.
Friday's speech in Northern Ireland marks the prime minister's first major attempt to sell the Chequers agreement since it was reached by her cabinet earlier this month.
She is due to tour other parts of the UK over the summer in an attempt to persuade businesses and citizens of its benefits.
Mrs May's speech comes as the International Monetary Fund (IMF) said that some EU countries will suffer significant economic damage if the UK leaves without a trade deal.
Both the UK and EU are stepping up preparations for a "no deal" Brexit.
The two sides insist it is not what they want – and that reaching a deal by the autumn is still very much on the cards.
But they have yet to agree how their final relationship will work, with key issues around cross-border trade unresolved, and the UK's official departure date of 29 March 2019 fast approaching.
The Republic of Ireland will remain within the EU and Taoiseach (Irish prime minister) Leo Varadkar has said his government is making contingency plans for "the unlikely event of a no-deal hard Brexit".
Theresa May to say Brexit plan will deliver for NI}