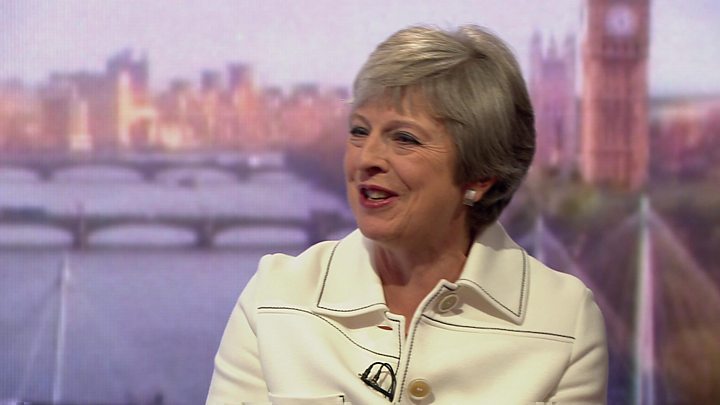 Donald Trump told Theresa May she should sue the EU rather than negotiate, she has told the BBC.
The US president said on Friday at a joint press conference that he had given her a suggestion but she had found it too "brutal".
Asked by the BBC's Andrew Marr what it was he had said, she replied: "He told me I should sue the EU – not go into negotiations."
She defended her blueprint for Brexit and urged her critics to back it.
She said it would allow the UK to strike trade deals with other nations, end free movement of people and the jurisdiction of the European Court of Justice.
A White Paper published on Thursday fleshed out details of her plan, which advocates close links with the EU on trade in goods, but not services.
Before the paper was published, Brexit Secretary David Davis and Foreign Secretary Boris Johnson resigned, saying it would not deliver the Brexit people voted for in the 2016 EU referendum.
Talking about the president's advice on how to handle the EU, Mrs May said: "Interestingly, what the president also said at that press conference was 'don't walk away'.
"Don't walk away from those negotiations because then you'll be stuck. So I want us to be able to sit down to negotiate the best deal for Britain."
Mrs May urged people to "keep their eye on the prize" of Brexit – and said her plan was the only workable way to deliver it.
Her message comes ahead of crucial Commons votes on trade and customs policy in the coming week.
Leading Tory Brexiteer Jacob Rees-Mogg called the White Paper a "bad deal for Britain". He says it would lead to the UK having to follow EU rules with no say in how they are made.
Donald Trump told the Sun newspaper Mrs May's proposals would "probably kill" a trade deal with his country.
Hours later, however, he said a US-UK trade deal would "absolutely be possible".
Theresa May: Trump told me to sue the EU}