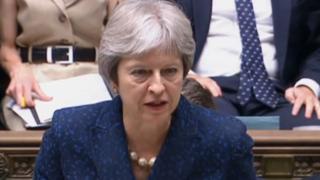 Theresa May will chair her new-look cabinet this morning after a string of resignations over her Brexit strategy left her government in crisis.
Mrs May was forced to carry out a reshuffle of her top team after Boris Johnson and David Davis both quit.
The prime minister has warned the Tory party it must unite or face the prospect of Jeremy Corbyn in power.
Jeremy Hunt, who has replaced Mr Johnson as foreign secretary, said he would be "four square" behind her.
The UK is due to leave the European Union on 29 March 2019, but the two sides have yet to agree how trade will work between the UK and the EU after that.
The delay has been partly blamed on deep disagreements within the Conservative Party over what shape Brexit should take.
Last Friday at the prime minister's country retreat at Chequers Mrs May brokered a "collective" agreement on proposals for the future relationship between the EU and UK.
However, Mr Johnson – whose departure on Monday followed that of Brexit Secretary David Davis and several junior figures – accused Mrs May of pursuing a "semi-Brexit".
In his resignation letter, he said the Brexit "dream is dying, suffocated by needless self-doubt".
Mrs May later faced down backbench critics at a meeting of the 1922 committee, amid rumours they were close to getting the 48 signatures needed to trigger a no-confidence vote that could spark a leadership election.
She told her critics the alternative to the party coming together could be a left wing Labour administration, with Jeremy Corbyn as prime minister.
The BBC's assistant political editor Norman Smith said that whilst Brexiteers are still unhappy with the Chequers plan, their focus is on getting that changed, not on ousting Mrs May.
"There is a genuine weariness [and] horror at the thought of more disruption, turmoil and a possible leadership contest," he told BBC Radio 4's Today programme.
"Above all, I just don't think one should underestimate Mrs May's sheer bloody-minded durability – you look around her cabinet table and there are bodies littered all over the place… and she is still there.
"Yes, her position is extraordinarily fragile and vulnerable, but it is far from game over."
'Foolish' to challenge May
Former Conservative leader Michael Howard said he supported Theresa May and called for a "degree of humility all around".
He told the Today programme: "I do think it would be extremely foolish and extremely ill-advised for anyone to send in letters to mount a motion of no confidence in the prime minister and I am delighted that good sense seems to be breaking out."
He added: "Boris puts things in his own inimitable way… [but] I don't believe the Brexit dream is dying and there is much water to run through many bridges before we can arrive at that rather gloomy conclusion."
The BBC's political editor Laura Kuenssberg said Monday's resignations might have left the prime minister with a more pliable and supportive cabinet, while her future could depend on how Brussels reacts to her Brexit proposals.
Jeremy Hunt, who has been health secretary for the past six years, was a Remain campaigner in the 2016 EU referendum. He has since said he is a convert to the Brexit cause.
His appointment means the four great offices of state – prime minister, chancellor, foreign secretary, and home secretary – are all held by ministers who voted to stay in the EU.
In his first comments as foreign secretary, Mr Hunt said he would be standing "four square" behind the prime minister "so that we can get through an agreement with the European Union based on what was agreed by the cabinet last week at Chequers".
Staunch Leave supporter Dominic Raab was promoted to the cabinet as Brexit secretary .
But most of the top jobs in government are now held by ministers who had backed Remain – including the new Health Secretary Matt Hancock.
Attorney General Jeremy Wright replaced Mr Hancock as the culture secretary, with backbencher Geoffrey Cox becoming the new attorney general.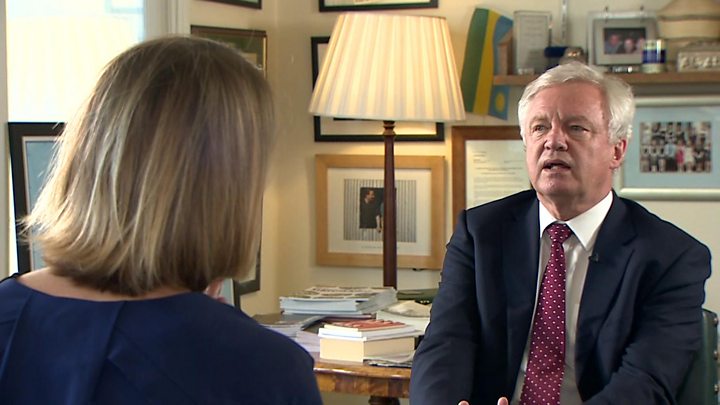 Labour leader Jeremy Corbyn said Mr Johnson and Mr Davis had abandoned a "sinking ship", shattering the "illusion of unity" initially surrounding the Chequers plan.
But Labour MP and Remainer Chuka Ummuna told Today that all the drama of Monday needed to be put to one side, saying: "This has gone from a soap opera to a comedy, and it would be funny were it not for the fact that the subject matter is going to have a fundamental impact on hundreds of thousands of people's jobs.
"So although Westminster was convulsed and there was breathless commentary on the ins and outs of who was resigning and who wasn't, those were three men's jobs we were talking about yesterday – ultimately this is going to impact on millions of people."
Meanwhile, the pound fell against the dollar and the euro following Mr Johnson's resignation, with analysts warning it was likely to fall further if he launched a leadership challenge to Mrs May.
Theresa May's new-look cabinet to meet amid Brexit turmoil}