Thomas Cook was heading into insolvency on Sunday night as the world's oldest holiday company faced a collapse that will strand 150,000 UK holidaymakers overseas and put 9,000 British jobs at risk.
Flights were pulled from booking websites at around 10pm after all-day talks failed to produce a £200m lifeline to keep the firm afloat.
The government and the aviation regulator have triggered the UK's largest ever peacetime repatriation – codenamed Operation Matterhorn – to bring holidaymakers home.
It is understood that the official administration will take place at about 3am on Monday, when the largest number of the 94-strong fleet of planes are on the ground.
It is understood that airlines including British Airways and easyJet will be involved in the airlift for holidaymakers using Thomas Cook, whose destinations range from mainland Europe to north Africa, the Middle East, the US and the Caribbean.
The foreign secretary, Dominic Raab, said on Sunday that the government had contingency plans in place for passengers and sought to reassure holidaymakers that they would not end up stuck overseas. The company had appealed to ministers for a bailout but Raab said the government did not "systemically step in" unless it was in the national interest.
"We would wait to see and hope that [Thomas Cook] can continue but in any event, as you would expect, we've got the contingency planning in place to make sure that in any worst-case scenario we can support all those who might otherwise be stranded," Raab told the BBC.
A last-ditch meeting at a law firm in central London between Thomas Cook executives and stakeholders including the firm's largest shareholder, Chinese conglomerate Fosun, came to a close after 5pm on Sunday, ending talks that began at 9am.
The tour operator is understood to have made a number of proposals, including asking lenders to reduce a £200m demand for extra funding and for credit card companies to release about £50m of cash they are holding as collateral against Thomas Cook bookings.
Thomas Cook's chief executive, Peter Fankhauser, who made an exit through the City law firm's loading bay flanked by colleagues, refused to say if he had reached a deal. He also stayed quiet when asked if he had any message for customers trapped abroad.
Thomas Cook has struggled to cope with a £1.7bn debt burden. The 11th-hour meeting came after the company had agreed a £900m bailout – but was then told to find another £200m, which proved a step too far.
Meanwhile, Thomas Cook holidaymakers were anxious that they might be evicted from their hotels or charged again for their holidays. Holiday companies do not normally pay hotels until up to 90 days after guests have left.
Customers at a hotel in Tunisia reported being locked in by security guards as the hotel demanded extra money, fearing it would not be paid by Thomas Cook. However, the company said the dispute had been resolved and holidaymakers were able to leave the hotel.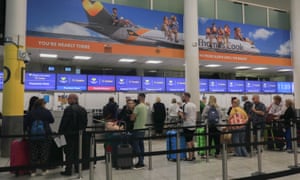 Thomas Cook also attempted to reassure worried customers that their flights would continue to operate as normal and that all their package holidays are protected under the Atol scheme, which guarantees the bookings of package holidaymakers. Atol covers holiday accommodation as well as return flights if customers are abroad at the time of a collapse. Future bookings are also protected.
The total cost of holidaymakers' guarantees to be paid by the Atol scheme – underwritten by the Civil Aviation Authority watchdog – is an estimated £600m if Thomas Cook goes under.
The business, which also has significant operations in mainland Europe, employs 21,000 people, many in the UK. It has a total of 600,000 people on holiday currently, including British travellers, with Germany and Scandinavia among its major customer bases alongside Britain. It also operates about 560 shops on UK high streets.
Mike Churcher, a 63-year-old retiree, who is currently on a Thomas Cook package holiday with his wife and 22-year-old son at the Royal Wings hotel in Antalya, Turkey, said he also feared being thrown out of his hotel.
He told the Guardian: "There's no information. It's all very stoic – we're all stiff upper lip, they're all tight-lipped … we don't think they've been paid for our holiday [by Thomas Cook] yet so we're worried they may throw us out … my concern is that if Thomas Cook goes under we could get turfed out. The Royal Wings staff are being very nice now though."
Bryan Ferriman, 82, who is staying on Greek island of Leros with his wife, Louise Robertson, and has flights back to the UK with the tour operator booked for later this week.
He said: "We have a flight from Kos to Birmingham late evening on Thursday … Kos airport is not a good place to be stranded in. I have tried to email Thomas Cook but this is impossible and phoning is futile."
Revealing that the couple had made a flight-only booking that is not covered by Atol, he added: "We are independent and the suggestion is that this is a disadvantage given the present circumstances and that package holiday people will get preference in any rescue operation.
"I am familiar enough with this country to possibly find a room in a town five miles away, but who carries the cost here? "
The Transport Salaried Staffs Association (TSSA), a trade union that represents workers at the company, said the British government should be ready to assist with "real financial support".
General secretary Manuel Cortes called for an urgent meeting with the business secretary, Andrea Leadsom.
Cortes said in a letter: "It is incumbent upon the government to act if required and save this iconic cornerstone of the British high street and the thousands of jobs that go with it."
The shadow business secretary, Rebecca Long Bailey, said: "This is yet more evidence of this government's indifference to British jobs and businesses going under. All viable options must be explored by Thomas Cook and the government must consider stepping in and taking an equity stake to avoid this crisis."
It is understood that Thomas Cook had approached the British government in an attempt to plug a gap in its funding.
A government spokesman said: "We recognise it's a worrying time for holidaymakers and employees.
"The financial circumstances of individual businesses are a commercial matter but the government and the Civil Aviation Authority are monitoring the situation closely."
Thomas Cook to collapse, stranding 150,000 UK holidaymakers – The Guardian