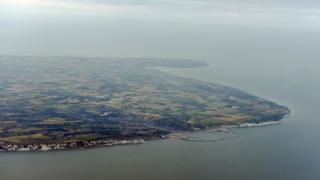 Another boat with suspected migrants on board has been picked up by the coastguard off the Kent coast.
BBC South East understands there were seven men, one woman and a toddler on board the "small open boat". They are believed to be Iranian.
The coastguard was alerted to the vessel "in distress in the south west shipping lane" at 04:30 GMT.
It is the third discovery of suspected migrants at or near the Port of Dover this week.
On Tuesday, a French fishing boat thought to have been stolen was stopped as it entered the Port of Dover with 17 suspected migrants on board.
In a separate incident, seven suspected migrants were also found in a lorry at Dover docks.
'Desperate migrants'
The latest boat to be found was brought into Dover Harbour and the occupants have been handed over to Border Force officers.
Speaking on Wednesday, Dover and Deal MP Charlie Elphicke urged the Home Office to tackle the growing problem of "these attempts to break into Britain", which were coming "thick and fast and becoming more shocking by the day".
"That people would take the risk of crossing the Channel on a small open boat with a toddler on board shows just how desperate they are.
"It underlines yet again why we need to increase the number of vessels patrolling our border. Having just two cutters is simply not enough of a deterrent.
"The Home Office must act urgently to tackle this growing problem and boost our borders budget," he said.
The BBC has approached the Home Office for a comment.
Toddler among 'Iranian migrants' on boat}