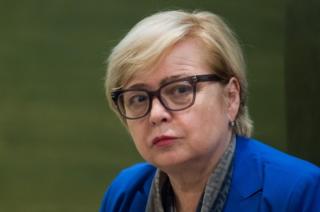 The head of Poland's Supreme Court has vowed to defy a new law that could see her and dozens of senior judges ousted.
Chief Justice Malgorzata Gersdorf branded the move to make some judges retire early a "purge".
She is meeting President Andrzej Duda on Tuesday, before changes come into force at midnight.
On Monday the European Union launched legal action against the right-wing government, saying the law undermined judicial independence.
Under Poland's new legislation, up to 40% of Supreme Court judges could be forced out.
The government says the changes will help fight corruption and improve the court's efficiency.
What is the row about?
The new law imposes a retirement age of 65, down from 70, and presidential assent is required for those who wish to stay on. Judges had until Tuesday to make their request.
Prof Gersdorf has previously refused to make such an appeal. And ahead of her meeting with President Duda, she told broadcaster TVN24 that she would resist any attempts to make her retire early.
The judge, who is an outspoken critic of the ruling Law and Justice (PiS) party, insisted that under Poland's constitution she should remain in her post until 2020.
"Tomorrow there will be a purge of the Supreme Court conducted under the guise of retirement reform," she later reportedly told law students.
Protests in support of Prof Gersdorf and other defiant judges are expected to take place on Tuesday and Wednesday around the Supreme Court building in the capital, Warsaw.
Why is the EU involved?
Poland's government has refused to back down despite EU action, including a separate legal case in December.
It insists its reforms are aimed at updating an inefficient system and replacing judges who date back to a communist era that collapsed in 1989.
However, the EU complains that judges have no way of seeking a review if their request to the president is turned down.
The head of state also does not have to explain any reasons for making such a decision.
The EU's executive, the European Commission, has given Poland a month – rather than the standard two months – to respond to the legal challenge.
Polish Foreign Minister Jacek Czaputowicz said the law was binding and "for the time being our stance is that we are right".
Top Poland judge Gersdorf vows to defy retirement rule