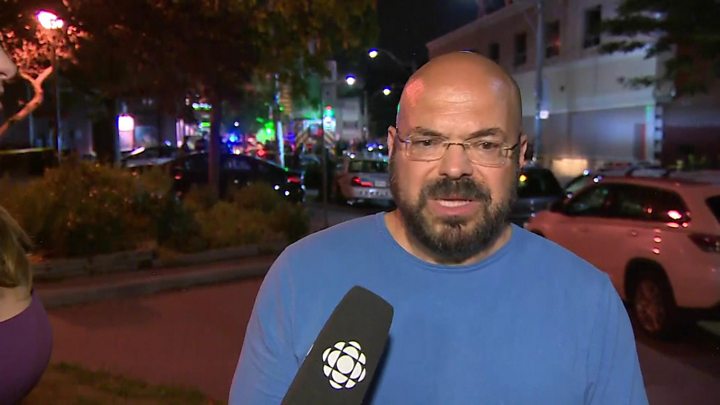 Two people have been killed and 12 others wounded, one of them critically, by a gunman who opened fire on a busy avenue in Canada's largest city.
One of the dead was a young woman, while the person critically injured in the attack in the Greektown district of Toronto is a girl of eight or nine.
The suspect, 29, had "an exchange of gunfire" with police officers before being found dead nearby, police said.
The attack erupted on Sunday evening on Danforth Avenue.
The motive for the shooting, which reportedly targeted at least two cafes or restaurants, is unclear. Police have also not identified the suspect, only releasing his age.
In a video clip shared by Canadian media, a white man wearing a dark cap and dark clothing and carrying a shoulder bag can be seen stopping on a pavement and pulling out a handgun before firing shots.
Some of the victims were treated at the scene, while others were taken to local hospitals.
Prime Minister Justin Trudeau sent his sympathies to the victims and the city in a tweet, while Toronto Mayor John Tory condemned the "despicable" attack on "people innocently enjoying a Sunday evening".
What happened?
Emergency services were called out just after 22:00 (02:00 GMT Monday). The site of the attack is a piazza with a fountain that is popular with local people and was busy at the time, the Toronto Globe and Mail writes.
A number of people were reportedly hurt in a cafe called the Demetres, while others were hit in the street.
One victim's death was reported soon after the attack, with the second death announced on Monday morning.
According to police, the gunman was found on Bowden Street, a short distance from the cafe. "An exchange of gunfire" then took place, before the man fled once more.
He was found dead on Danforth Avenue.
Andrew Mantzios had been drinking coffee with friends by the fountain when he heard shots and turned around to see the gunman coming towards his group.
"He had this horrible expression on his face," Mr Mantzios was quoted as saying by the paper.
The gunman fired at a crowd of people waiting to cross the street, he said.
"And then a lady tried to run and she fell down. He turned around and shot her point blank, two or three times."
Mr Mantzios and his friends dropped to the ground for cover and watched as the attacker criss-crossed the avenue, shooting into businesses.
Dennis Helm was getting ready for bed when he heard the gunfire.
He lives a block south from where the shooting took place and his windows were open to catch a breeze on the warm night.
"There were 10 rapid [shots], a break, and a few more," he told the BBC on Monday morning.
A driver, Jim Melis, told the Globe and Mail that a white man wearing a black cap and a bandana had fired shots through a cafe window.
The gunman had run out in front of his car, crossing the street, before pulling out his gun, he said.
Paramedics could be seen performing CPR on the injured around the piazza afterwards, the Globe and Mail reports.
After police sealed off the scene of the attack, upturned coffee cups could be seen being used behind the ticker tape to mark evidence.
What do we know of the attacker?
Very little. Toronto police have not named him, or given any details other than his age.
It is unclear whether he was shot by police or killed himself.
Jessica Young, an employee at the Second Cup cafe, said she had seen the gunman's face before he fired through the window.
She told the Toronto Star newspaper: "He was probably no taller than me, wearing a black baseball cap, dark clothes. He had light skin. I think he had short facial hair. That's all I could make out."
Nobody was hurt in her cafe, she added.
Is Toronto known for gun violence?
Gun violence is much rarer in Canada than over the border in the US, but Toronto has seen attacks increase dramatically in recent years.
Shootings in the city over a holiday weekend earlier this month led to Mayor Tory saying he was working to get more police patrolling the streets.
Police data also shows the number of shootings in Toronto more than doubled between 2014 and 2017 – from 177 to 395.
Mr Trudeau's ruling Liberal party wants tougher background checks, including screening people with a history of violence.
Gun control has often sparked divisive debates in Canada, which has a large rural population where guns are widely owned and used.
---
Were you in the area at the time? Did you witness what happened? Email haveyoursay@bbc.co.uk.
Please include a contact number if you are willing to speak to a BBC journalist. You can also contact us in the following ways:
Toronto shooting: Gunman kills two in Greektown district