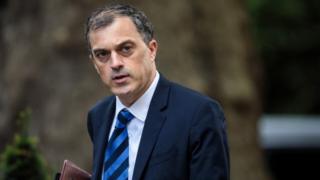 Conservative Chief Whip Julian Smith is under pressure to explain why an MP took part in crunch Brexit votes despite an agreement not to.
Mr Smith told Brandon Lewis to break a voting pact with a Lib Dem MP "by accident", sources have told the BBC.
He has apologised to Jo Swinson who had a "pairing" agreement with Mr Lewis.
Tory sources say Mr Smith "might have told" some MPs to break "short term" pairing deals but, if he did, none went through with it.
He is facing Labour calls to resign for undermining trust in the pairing system.
MPs from different parties due to vote on different sides in the Commons can have "pairing" deals to cancel each other out if they cannot take part in votes – in Ms Swinson's case she was on maternity leave.
Mr Lewis, who is the Conservative Party chairman, said it was an "honest mistake" made in fast-moving circumstances, as the government tried to scrape together enough votes to get its Trade Bill passed on Tuesday. It won by six votes.
But the Lib Dems have called on chief whip Mr Smith to explain himself after reports he told Mr Lewis and two other Tory MPs that they should go ahead and vote, despite being paired. Two of the MPs are reported to have refused to break their pairing arrangements.
Commons leader Andrea Leadsom told MPs: "There were three pairs on Tuesday. I myself was one of them. I did not receive any call from anyone telling me to vote."
Labour MP Wes Streeting said Mr Smith should break with the convention preventing chief whips from making statements in the Commons to explain his actions to MPs.
He said the Tory chief whip should resign "if the trust in the pairing system has been abused in this way".
Tory sources have told the BBC's Political Editor Laura Kuenssberg that Mr Smith had considered ordering MPs to break short-term pairing arrangements – something that would have been highly unusual, although not unprecedented.
The sources said he "might" have told some of them to do so, but none did, she added. He did not consider telling them to break long-term pairing agreements like the one Mr Smith had with Ms Swinson, the sources said, insisting that Mr Lewis was told to vote "by accident".
Tory chief whip Julian Smith under fire in pairing row}