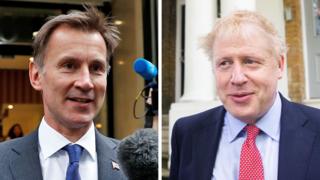 Tory leadership candidate Jeremy Hunt has warned the party not elect a "populist" and risk losing power to a "dangerous" Jeremy Corbyn.
Mr Hunt criticised the opposition leader whilst appearing to jibe his rival Boris Johnson.
He said "Now faced with a hard left populist, we could choose our own populist, or, do even better – and choose our own Jeremy."
Mr Hunt also challenged his rival to a live TV debate before votes were cast.
Both candidates are due to make their first leadership pitch to party members later.
Speaking at the Conservative Progress Conference, Mr Hunt said the Tories shouldn't ignore the "crocodile lurking under the water" of British politics, "which is Labour".
He described Labour's leadership as "the most dangerous, ruthless, anti-western, anti-British, hard left cabal".
Referring to himself he said: "This Jeremy is going to win the argument for enterprise, aspiration, true social justice."
Mr Hunt called on Mr Johnson to take part in a TV debate at the start of the contest – rather than after Tory members begin to cast their votes.
In a letter to his rival he said plans for a televised Conservative leadership debate on July 9, three days after postal voting began, would do democracy "a deep dis-service" if candidates "hid away" while members voted.
He wrote: "My challenge to you is this: lets have live televised debates right at the start of the contest and specifically at least two in the next two weeks before members receive their ballot papers."
Mr Johnson's campaign has so far not responded to Mr Hunt's challenge.
Party members will receive their papers between 6-8 July, with the new leader expected to be announced in the week beginning 22 July.
Tory MPs have whittled an initial list of 10 candidates down to two after several rounds of voting.
In the fifth and final round on Thursday, Boris Johnson came out on top with 160 out of the 313 votes cast. Mr Hunt received 77 votes and Michael Gove was knocked out with 75.
Later on Saturday, the two contenders will attend the first of 16 leadership campaign events, known as hustings.
There they will face questions about Brexit and their wider policy plans from Conservative party members.
Mr Johnson featured on most of Saturday's newspaper front pages following reports by the Guardian that police were called to his London home after neighbours reported "slamming and banging".
The Metropolitan Police said "there was no cause for police action". A spokesman for Mr Johnson declined to comment.
Mr Hunt endured a difficult day on the campaign trail on Friday when an inquiry was told he had failed to keep his promise to a man with terminal cancer during his time as health secretary.
The man's widow said Mr Hunt had failed to deliver on a pledge to "sort out" a financial settlement for victims of the infected blood scandal.
The inquiry is looking at why 4,800 people with haemophilia were infected with hepatitis C or HIV in the 1970s and 1980s.
Mr Hunt's spokesman said he had pushed for the inquiry.
Tory leadership: Hunt warns not to select a 'populist'}