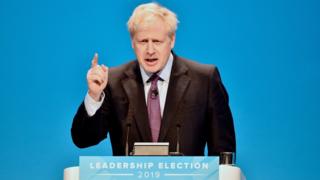 Boris Johnson and Jeremy Hunt have made their pitch to be the next Prime Minister at the first of 16 Conservative Party hustings.
The two contenders for Number 10 laid out their vision for the country at a conference in Birmingham.
Speaking first, Mr Johnson admitted these were "dark days" for his party, but insisted he could turn things around.
His rival said he could "deliver Brexit and send Corbyn packing".
Mr Johnson warned the most important thing was to "get Brexit done". He said: "My ambition is to unite this country and our society in the way I was able to do in London.
'New confidence'
"Let's take Britain forward. We need to discover a new confidence in our country."
Mr Hunt said: "We are in a very serious situation. Get things wrong, and and there will be no Conversative government and maybe even no Conservative Party.
"Get things right, and we can deliver Brexit, unite the party and sending Corbyn packing."
But he warned that if Tory party members elected the "wrong person" as leader, then "catastrophe awaits".
Mr Johnson said he would prepare for a no-deal Brexit if he became PM
He said: "We must be able to come out on WTO terms, so that for the first time in these negotiations we carry conviction.
"And it is precisely because we will be preparing between now and October 31 for a no deal Brexit that we will get the deal we need."
He repeated his previous claim that it was "eminently feasible" for the UK to leave the EU by October 31, saying he intended to make it happen.
The former Mayor of London featured on most of Saturday's newspaper front pages following reports by the Guardian that police were called to his London home after neighbours reported "slamming and banging".
The Metropolitan Police have said they will not be taking any further action following the episode.
Asked by host, LBC presenter Iain Dale, whether character mattered when choosing a Prime Minister Mr Johnson said: "I don't think people want to hear about that."
Accused of ducking the question, Mr Johnson said: "People are entitled to ask me what I want to do for the country."
Questioned on the biggest personal crisis he had ever faced, Mr Johnson recalled the London riots.
He said: "I felt this absolutely overwhelming sense of obligation, responsibility and horror.
"I did everything I could to get out on the street and bring the city together."
Another questioner wanted to know whether Mr Johnson's approach to British business in the context of Brexit was as "cavalier and careless" as previously, when he used an expletive.
He replied: "I believe passionately in UK businesses, and as Foreign Secretary I spent a lot of my time promoting UK businesses at home abroad."
Mr Johnson's campaign has so far not responded to Mr Hunt's challenge to hold a live TV debate before party members cast their votes.
Members will receive their ballots between 6-8 July, with the new leader expected to be announced in the week beginning 22 July.
Tory leadership: Johnson and Hunt make pitch to be PM}