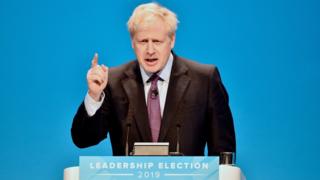 Boris Johnson and Jeremy Hunt are making their pitch to be the next Prime Minister as the first of 16 Conservative Party hustings begins.
The two contenders for Number 10 are laying out their vision for the country at a conference in Birmingham.
Speaking first, Mr Johnson admitted these were "dark days" for his party, but insisted he could turn it around and defeat Jeremy Corbyn.
He would not comment on questions about a late-night row with his partner.
Mr Hunt will speak second after the pair drew lots.
Mr Johnson said the most important thing was to get Brexit done.
He repeated his previous claim that it was "eminently feasible" to leave the EU by 31 October.
And he said: "My ambition is to unite this country and our society in the way I was able to do in London.
'New confidence'
"Let's take Britain forward. We need to discover a new confidence in our country."
The former Mayor of London featured on most of Saturday's newspaper front pages following reports by the Guardian that police were called to his London home after neighbours reported "slamming and banging".
Asked by the host, LBC presenter Iain Dale, about the incident, Mr Johnson said: "I don't think people want to hear about that."
Accused of ducking the question, Mr Johnson said: "People are entitled to ask me what I want to do for the country."
Speaking at a Conservative conference earlier, Mr Hunt warned the party not to elect a "populist" and risk losing power to the "dangerous" Jeremy Corbyn.
He said: "Now faced with a hard left populist, we could choose our own populist, or, do even better – and choose our own Jeremy."
He described Labour's leadership as "the most dangerous, ruthless, anti-western, anti-British, hard left cabal".
Mr Hunt also challenged his rival to a live TV debate before votes were cast.
Mr Johnson's campaign has so far not responded to Mr Hunt's challenge.
Party members will receive their ballots between 6-8 July, with the new leader expected to be announced in the week beginning 22 July.
Tory MPs whittled an initial list of 10 candidates down to two.
In the fifth and final round on Thursday, Boris Johnson came out on top with 160 out of the 313 votes cast. Mr Hunt received 77 votes and Michael Gove was knocked out with 75
Mr Johnson arrived at the hustings' main entrance, and did not respond to the gauntlet of journalists shouting questions about the late-night episode.
Earlier the Metropolitan Police said "there was no cause for police action" and a spokesman for Mr Johnson declined to comment.
Tory leadership: Johnson and Hunt making pitch to be PM}