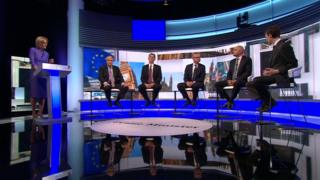 Tory leadership rivals have clashed in a live BBC TV debate on whether the UK can leave the EU, no matter what, by the 31 October deadline.
Asked for a guarantee he would do this, Boris Johnson described the deadline as "eminently feasible".
Sajid Javid said the deadline "focused minds" while Michael Gove and Jeremy Hunt said extra time might be needed.
But Rory Stewart accused his colleagues of "staring at the wall and saying believe in Britain".
The five men vying to be Conservative Party leader – and the UK's next prime minister – were taking part in a live televised debate on BBC One.
Former Brexit Secretary Dominic Raab was earlier eliminated in the second round of voting, when Conservative MPs voted by secret ballot in the latest stage of the contest.
During the hour-long debate, all five men ruled out calling a general election until Brexit was resolved.
But the encounter exposed divisions in their approaches to Brexit and whether they could accept the UK leaving the EU without an agreement.
The candidates, who faced questions from members of the public on issues ranging from climate change to Islamophobia, also disagreed over whether to prioritise tax cuts or increased spending on public services after the UK leaves the EU.
Mr Johnson, the frontrunner in the contest, was taking part in his first debate of the campaign after he skipped Sunday's Channel 4 encounter.
How candidates Brexit plans stacked up
The former foreign secretary said the British people were "fed up" with the current deadlock over Brexit and the Tories would pay a "really serious price" if this continued.
He warned of a "catastrophic loss of confidence in politics" if the latest Brexit deadline was not met. Asked if he could guarantee this, he replied that "October 31 is eminently feasible".
"If we allow 31 October to come and go as we let March come and went, I think the public would look on us with increasing mystification," Mr Johnson said.
Mr Javid, who came fourth in Tuesday's second round of voting, suggested the route to getting a Brexit deal through Parliament was by re-presenting Theresa May's Withdrawal Agreement but without the controversial Irish backstop.
"We need to have a deadline. Without that we won't focus minds."
Mr Gove said an "arbitrary" deadline was counter-productive and if he was prime minister he would be prepared to delay Brexit by a matter of days to finalise a deal.
"You sometimes have extra time in football matches in order to slot home the winner."
Mr Hunt said he would back a no-deal exit as a "last resort" but if the UK was close to finalising a deal with the EU it would be wrong to leave without an agreement.
Mr Stewart said he would not allow a "damaging and unnecessary" no-deal exit and his rivals could not explain how they could possibly do this "against the consent of Parliament".
He suggested he was seeking the most realistic "door" out of the EU while "everyone else was staring at the wall and saying believe in Britain".
Tax plans also a dividing line
Moving beyond Brexit, the candidates clashed over their economic plans and whether to prioritise higher spending on public services or tax cuts.
There were sharp exchanges between Mr Stewart and other contenders, Michael Gove accusing him of having "no plan" for how to run the economy or public services.
"Bringing people together is not enough," he told Mr Stewart, who has emerged as the surprise contender in the race.
Analysis from BBC political correspondent Chris Mason
Plenty expected lots of ganging up on Boris Johnson tonight from his rivals.
But what was striking – after the Stewart surge in votes between rounds one and two in Parliament – is there was at least as much, if not more, ganging up on Rory Stewart.
Why?
Look at the numbers.
There were just 13 votes separating Jeremy Hunt, who finished second, and Sajid Javid, who finished sixth in the leadership ballot.
In other words, all of them, other than Boris Johnson, are potentially vulnerable to relatively small shifts in votes.
And Mr Stewart, in the build up to tonight, had the momentum.
Mr Gove also criticised Mr Johnson's plans to give a tax cut to those earning more than £50,000 a year, saying it was a mistake to target the already well-off. Instead, he said the focus should be on increased schools spending.
Mr Stewart said promising tax cuts were "wrong" given the uncertainty around Brexit. He called for a "revolution" in care for the elderly, calling current provision a "disgrace".
Mr Hunt, who was health secretary for six years, also called for increased investment, suggesting cuts to care budgets under the current government had gone "too far".
Mr Javid said tax cuts could generate extra revenues and make the economy more dynamic.
Challenge over Islamophobia
Mr Johnson said he regretted if he had caused offence over past comments he made about women in burkas, who he said resembled letter boxes.
Mr Javid said politicians should be "brave enough" to call out Islamophobia in all its forms, wherever it emanates from.
He called for all the other candidates to agree to an external inquiry into Islamophobia in the Tory Party – which they all appeared to do.
Tory leadership race: Candidates face off}