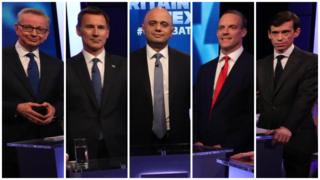 Contenders to replace Theresa May as Conservative leader have clashed over delivering Brexit during a TV debate.
The MPs differed over whether a new deal could be renegotiated with the EU, and the prospect of a no-deal Brexit.
Leadership hopefuls are appearing before a studio audience at a debate hosted by Channel 4 News.
Boris Johnson is not taking part, arguing that debates with several candidates "can be slightly cacophonous".
Four of the five candidates argued against closing down Parliament in order to push through a no-deal Brexit.
Rory Stewart said it was a "deeply disturbing" option and Sajid Javid warned "you don't deliver democracy by trashing out democracy."
However Dominic Raab said "every time one of these candidates take an option away… we weaken our chances of getting the best deal."
No deal Brexit?
The candidates also argued over whether a no-deal Brexit should be considered.
Home Secretary Sajid Javid said no deal was the "last thing" he wanted but added: "You do plan for no deal precisely because you want a deal."
Ex-Brexit Secretary Dominic Raab said Britain would be able to "manage those risks" associated with leaving the EU without a deal.
The candidates were united in condemnation of the Labour leader with Jeremy Hunt accusing Jeremy Corbyn of being "against aspiration".
Michael Gove argued he was the candidate Mr Corbyn would be most scared of facing at Prime Minister's Questions.
The UK's next prime minister
Beyond Brexit
The politicians were also asked about their priorities apart from Brexit.
Sajid Javid chose funding education and further education colleges, saying: "We have cut back too much in that space."
Dominic Raab said he wanted to improve state schools and offer more choices for young apprenticeships, while Michael Gove said children would be his top priority and emphasised the importance of protecting the environment for the future.
Jeremy Hunt told the audience "every Conservative has two desires: cut taxes and spend more on public services." He also said he would focus on literacy and the social care system.
Rory Stewart also said his central priority would be fixing the adult social care describing the issue as "the great unfinished revolution".
Where's Boris?
Meanwhile, Foreign Secretary Jeremy Hunt attacked Mr Johnson for failing to appear at the debate.
"Where's Boris," he asked and suggested the frontrunner would not be able to negotiate with Brussels if he would not even appear on a TV debate.
Speaking to Radio 4's World at One earlier, Mr Johnson said he was "pretty bewildered" by claims he was dodging scrutiny.
"I think the public have had quite a lot of blue-on-blue action, frankly, over the last three years," he added.
He said the best time for a debate was on Tuesday after the second ballot.
The contenders taking part in Channel 4's debate, hosted by anchor Krishnan Guru-Murthy, are Michael Gove, Jeremy Hunt, Sajid Javid, Dominic Raab and Rory Stewart.
Mark Harper, Andrea Leadsom and Esther McVey were eliminated after failing to get the necessary 17 votes in the first ballot of Tory MPs on Thursday.
Matt Hancock, who won 20 votes, has now withdrawn.
The rest will go on to take part in further ballots until two remain.
The final pair will be put to a vote of the 160,000 members of the Conservative Party from 22 June. The winner is expected to be announced about four weeks later.
On Tuesday 18 June BBC One will host a live election debate, hosted by Emily Maitlis, between the Conservative MPs who remain in the race.
The participants will face questions from viewers across the country via local TV studios.
If you would like to ask the candidates a question live on-air, use the form below. It should be addressed to all of them, not a specific politician.
If you are reading this page on the BBC News app, you will need to visit the mobile version of the BBC website to submit your question on this topic.
Tory leadership race: Contenders clash over Brexit}