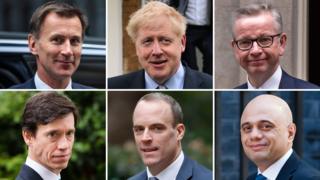 Tory MPs are voting again to choose a new leader as the process of deciding the UK's next prime minister continues.
The result of the second ballot of MPs is expected some time after 18:00 BST.
Any of the six remaining candidates will be eliminated from the contest if they come last or fail to secure at least 33 votes.
Those remaining in the race to succeed Theresa May will take part in a live BBC debate in central London on Tuesday evening.
Remaining candidates will face further ballots later this week, where the bottom-ranked MP will be knocked out until only two are left.
The final two names will then be put to a postal vote of the 160,000 Tory party members, beginning on 22 June, with the winner expected to be announced about four weeks later.
All 313 Conservative MPs are expected to take part in the second ballot in the Houses of Parliament, which ends at 17.00 BST.
Rory Stewart and Dominic Raab were the first two of the contenders to cast their votes, with Sajid Javid and frontrunner Boris Johnson following soon after.
The former foreign secretary remains the man to beat in the race after topping the first ballot earlier this month with 114 votes.
Former cabinet minister Andrea Leadsom – who was knocked out in the first round – has given him her support.
Speaking on LBC, she said Mr Johnson was "an election winner" who was "best placed" to take the UK out of the EU by 31 October.
Current Foreign Secretary Jeremy Hunt, who came second with 43 votes, and Environment Secretary Michael Gove, who was third with 37, should make it through to the next ballot on Wednesday if their support holds firm.
Mr Raab, who received 27 votes, and Home Secretary Mr Javid, who received 23, told reporters on Monday they were confident of making it through to the next round.
International Development Secretary Mr Stewart, who received 19 votes in the first ballot, said he had the necessary 33 backers to stay in the race "if they do what they say".
How can you watch the debate tonight?
Our Next Prime Minister will be hosted by BBC Newsnight presenter Emily Maitlis and broadcast on BBC One at 20:00 BST.
You can also follow the debate on our live page on the BBC News website.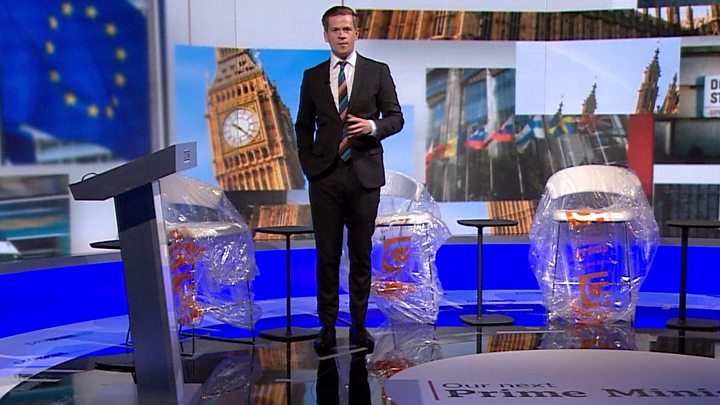 Alternatively, you can stream the debate online through BBC Sounds or by watching BBC One and the News Channel through iPlayer.
From 21:00 BST, the BBC News Channel will be broadcasting reaction to the debate from politicians and pundits.
The debate will be also be broadcast live on Radio 4.
Deals and counter-deals?
Until 18.00 BST, much of Westminster will be preoccupied with counting the number of hypothetical votes that are going to each one of the aspiring prime ministers.
Scurrilous whispers are whizzing round about deals and counter-deals.
There are suggestions that some of Michael Gove and Boris Johnson's declared backers are secretly reaching out to Rory Stewart and gently wondering about potential jobs.
Conspiracists suggest that Boris Johnson's team are ordering some of their supporters to vote today for Jeremy Hunt to ensure he faces what they see as a vanilla politician in the final two.
Lots of politicians love nothing more than campaigning and hustling for votes, and what could be more fun for them when they don't even have to bang on doors in the rain to do so but can plot happily in the tea rooms of Westminster?
Whoever ultimately wins through to the next round, however, will soon have to count a different set of numbers – those in Parliament.
Mr Stewart, who is currently sixth-placed among the remaining contenders, received a boost to his campaign on Monday evening with the endorsement of Cabinet Office Minister David Lidington.
Mr Lidington, who had backed Matt Hancock before he quit the race last week, told a rally for Mr Stewart there was a "yearning in this country for political leaders who tell it straight to people".
Speaking on BBC Breakfast, Mr Stewart claimed the majority of Mr Hancock's supporters were now backing him.
He added that Mr Lidington's backing was important as it was a "vote of confidence in somebody he feels could run a cabinet and be prime minister".
When asked on BBC Radio 4's Today programme if he had been a spy, Mr Stewart replied: "I would definitely say I served my country. If someone asked me if I was a spy I would say no."
Mr Javid said Mr Johnson was certain to be one of the final two candidates and warned his colleagues that the race could end up looking like "a debate of the Oxford Union" – a debating society at Oxford University.
He told the Today programme he brought his own background to the job "so different and in sharp contrast to Boris".
Speaking about his rival Mr Stewart, he said a new leader had to "properly believe in Brexit, rather than trying to reverse the decision".
Mr Johnson has agreed to take part in the BBC TV debate, after missing a debate on Sunday night hosted by Channel 4.
His low media visibility in the campaign has attracted criticism from his rivals and their supporters.
However, he picked up another cabinet endorsement on Monday, when Mr Hancock backed him as "the best candidate to unite the Conservative Party".
Tory leadership: Voting under way in second ballot}