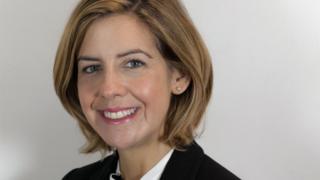 A Leave-backing MP has resigned from her junior government role saying she wants to "fight for Brexit".
Andrea Jenkyns quit as a parliamentary private secretary, saying she wanted to "commit" to other duties.
Ms Jenkyns said PM Theresa May had her "full support" but warned "we need to leave the customs union".
The Commons Brexit Committee says the UK may be forced to stay in the EU's customs union beyond the end of the transition period in 2020.
Its report published on Thursday said it was "highly unsatisfactory" that ministers have yet to agree their preferred trade arrangements and in the absence of another plan, extending the current arrangements "will be the only viable option".
Ms Jenkyns, Conservative MP for Morley and Outwood, is a member of the committee, but wrote on her website that only seven of its 21 members had voted to leave the European Union, leaving it "unbalanced in favour of us either remaining in the EU, the customs union or delaying our departure".
She wrote: "I therefore feel I need to spend more of my time doing all I can do to correct this imbalance and be a robust voice for the benefits of Brexit".
Ms Jenkyns has quit as a parliamentary private secretary – an unpaid role supporting ministers – in the Ministry of Housing, Communities and Local Government.
She wrote that she had been unable to "give my full attention to everything" so had taken the "difficult decision" to step down.
"I made a promise to my constituents during this parliament to fight for Brexit and this is a promise that I intend to keep to the best of my abilities. And it is important that I have both the time and freedom to speak out on the backbenches to be able to do so," she said.
She said she gave Mrs May "my full support in delivering the Brexit that she promised the British people" but added that a "new relationship with Europe" must not mean being left "half-in, half-out".
"And in order to achieve this, we need to leave the customs union," she added.
The UK is on course to leave the EU's customs union, which lets goods pass between member states tariff-free, as part of Brexit. The government says it wants to maintain "frictionless" trade with no hard border in Northern Ireland after it leaves.
Pro-Brexit MPs back leaving the customs union, arguing that the UK must be free to strike its own trade deals while pro-EU campaigners say a customs union is the only way to prevent a hard border in Northern Ireland.
The transition period – which is intended to smooth the path to the final post-Brexit relationship between the UK and EU – is intended to last from Brexit day in March 2019 until 31 December 2020.
Tory MP Andrea Jenkyns quits government role 'to fight for Brexit'}