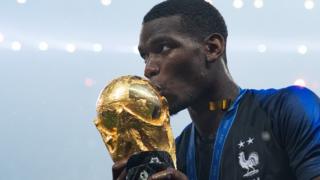 US-based South African comedian Trevor Noah has defended himself after being criticised by a French diplomat for saying "Africa won the World Cup".
The Daily Show host made the comments on his satirical show a day after France beat Croatia to win football's most coveted prize on Sunday.
More than half of the French squad can trace their heritage back to Africa.
The French ambassador to the US said the comedian was denying their "Frenchness" by calling them African.
"This, even in jest, legitimises the ideology which claims whiteness as the only definition of being French," Gérard Araud said in a stern letter to Noah.
"They were educated in France, they learned to play soccer in France, and they are French citizens. They are proud of their country, France."
The Daily Show posted a video of the South African comic reading out the letter on Wednesday (later tweeted by the French embassy in the US) – and going on to argue that the players' African identity should be celebrated.
Noah said he understood where the ambassador was coming from and how his comment could be perceived as "joining the attack" with France's far right.
But he said his statement should be put in context: "When I am saying, 'They are African', I am not saying it as a way to exclude them from their Frenchness, but using it as a way to include them in my Africanness."
To deny that duality was something he "vehemently" disagreed with.
You may also like:
The feud comes after Khaled Beydoun, a US author on Islamophobia, called in a Twitter post for "justice" for Africans and Muslims in France because they "delivered you a second World Cup".
The tweet was widely shared and garnered criticism and praise. Some were worried it would hamper race relations in a country that had witnessed its political discourse become inflamed following a migration crisis and a number of terrorist attacks.
Earlier in the week, Noah had also posted to his Instagram account a cartoon by M Rifai showing a boat full of migrants handing the World Cup trophy to France.
In his letter, Mr Araud stressed that the players "rich and varied backgrounds is a reflection of France's diversity", to which Mr Noah replied: "Now I am not trying to be an asshole but I think it is more of a reflection of France's colonialism."
France's founding principles and universal values means it does not collect data or statistics on its racial, ethnic or religious backgrounds.
The ambassador pointed to this, saying: "Unlike the United States of America, France does not refer to its citizens based on their race, religion or origin."
Mr Noah said the colour-blind approach has not stopped discrimination against African migrants.
"When they are unemployed, when they may commit a crime or when they are considered unsavoury – it is the African immigrants," Mr Noah said.
"When their children go on to provide a World Cup victory to France, we should only refer to them as French."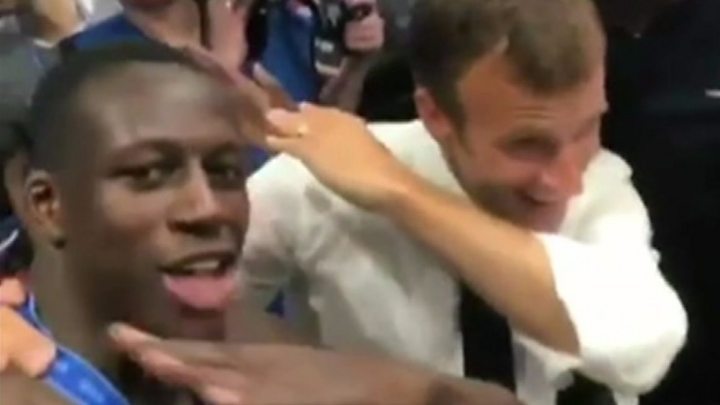 Mr Noah expanded on the concept, using as an example Malian migrant of Mamoudou Gassama, who was recently given French citizenship after climbing a building to rescue a child dangling from a balcony.
"They said, 'You are now French.' So now I am going, 'Is he now no longer African?'" Mr Noah asked.
Former US President Barack Obama has also waded into the debate about the identity of the French football squad.
During his Nelson Mandela lecture in Johannesburg earlier this week, he pointed to the positive side of immigration: "Just look at the French football team. Not all of those folks looked like Gauls to me, but they are French – they are French."
Trevor Noah defends 'Africa won the World Cup' joke