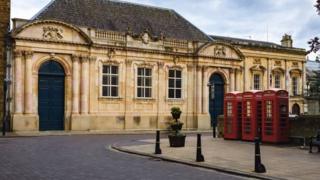 A cash-strapped council has imposed emergency spending controls for the second time this year.
The section 114 notice bans all new expenditure at Northamptonshire County Council, with the exception of statutory services for protecting vulnerable people.
It follows an issuing of the same notice in February.
Two government-appointed commissioners are running the authority, with one calling its finances "truly perilous".
The council is facing a potential budget shortfall in the current financial year of between £60m and £70m, according to chief finance officer Mark McLaughlin.
Council leader Matthew Golby said the financial challenge facing the authority "remains critical" and the spending controls would see "limited funding" focused on "only the most essential services".
The decision to issue a second notice was made in discussion with commissioners Tony McArdle and Brian Roberts, the council said.
The Conservative-led council's first section 114 notice in February was believed to be the first issued in more than 20 years.
In a statement, commissioner Mr Roberts said the latest notice "underlines the truly perilous state" of the authority's finances.
"We have been very clear that we did not arrive in Northamptonshire with additional money," Mr Roberts said.
"To put itself on a secure financial footing very difficult decisions will need to be taken. It is clear the time for these decisions is now.
"All that is required of the council is that it lives within its means, just like every other council."
'Completely unprecedented'
An extraordinary full council meeting will take place on Wednesday 1 August, with the aim of discussing a new set of spending priorities.
A council source told the BBC the scale of possible cuts was "huge…completely unprecedented".
A Ministry of Housing, Communities and Local Government spokesman said: "It is essential residents are able to have faith in their council, particularly in the responsible use of taxpayers' money.
"These commissioners will continue to work closely with the council as it takes the necessary steps to rebalance its finances."
Troubled Northamptonshire County Council bans spending again}