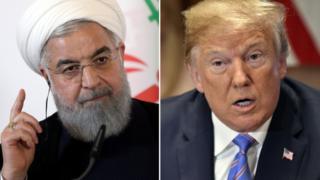 US President Donald Trump and Iranian President Hassan Rouhani have traded hostile warnings, amid rising tensions between the two countries.
Mr Trump tweeted that Iran "will suffer consequences the likes of which few throughout history have ever suffered before" if it threatened the US.
Mr Rouhani earlier said that war with Iran would be "the mother of all wars".
In May, the US left a deal which curbed Iran's nuclear activities in return for the lifting of international sanctions.
Washington is now re-imposing the sanctions, despite objections from the UK, France, China, Russia and Germany, who all signed the 2015 agreement.
President Rouhani's comments, made to Iranian diplomats, did leave open the possibility of future good relations with the US.
"America should know that peace with Iran is the mother of all peace, and war with Iran is the mother of all wars," he said, according to Iran's state news agency Irna.
Mr Trump's angry rhetoric has echoes of his Twitter barrages against North Korea's Kim Jong-un, whom he branded a "madman" who "will be tested like never before", before engaging in a testy exchange over whose nuclear button was bigger.
Their verbal hostilities nonetheless evolved into ongoing diplomatic negotiations.
'More of a mafia than a government'
In a separate development on Sunday, US Secretary of State Mike Pompeo said the Iranian regime "resembles the mafia more than a government".
Addressing a group of Iranian Americans in California, Mr Pompeo denounced Mr Rouhani and Iranian Foreign Minister Javad Zarif, who negotiated the nuclear deal, as "merely polished front men for the ayatollahs' international con artistry".
Mr Pompeo said he wanted to try to stop countries importing Iranian oil by November as part of continued pressure on Tehran.
The gathering was the first time a top US official had directly addressed such a large number of Iranian Americans, says BBC state department correspondent Barbara Plett Usher. It is being seen as part of the administration's strategy to increase pressure on Iran's leadership.
Why did the US withdraw from the deal?
In May, Mr Trump called the nuclear accord – or Joint Comprehensive Plan of Action (JCPOA) as it is formally known – a "horrible, one-sided deal that should have never, ever been made".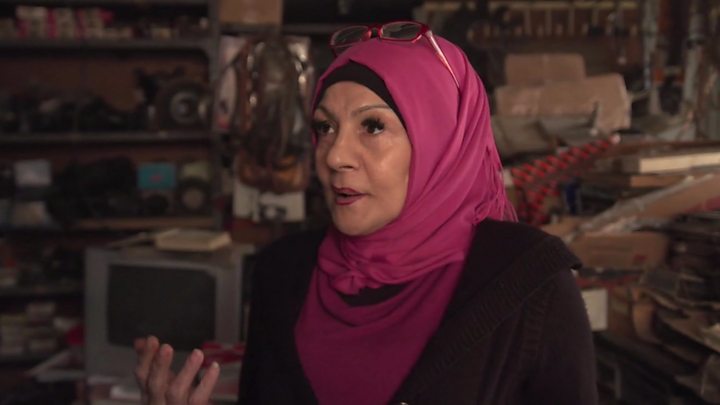 Mr Trump alleged that the deal did not restrict Iran's "destabilising activities" in the region enough, and could not detect or prevent any breaking of the terms of the deal.
Iran insists its nuclear programme is entirely peaceful, and its compliance with the deal has been verified by the International Atomic Energy Agency (IAEA), which has said Iran is honouring its commitments.
In May, Mr Pompeo outlined 12 conditions for any "new deal" between the US and Iran, including the withdrawal of its forces from Syria and an end to its support for rebels in Yemen.
Others include Tehran:
Giving the International Atomic Energy Agency (IAEA) a full account of its former nuclear military programme, and giving up such work forever
Ending its "threatening behaviour" towards its neighbours, including "its threats to destroy Israel, and its firing of missiles into Saudi Arabia and the UAE"
Releasing all US citizens, and those of US partners and allies, "detained on spurious charges or missing in Iran"
The US Treasury has said that there will be wind-down periods of 90 and 180 days before sanctions are implemented.
The first deadline, on 6 August, will affect the purchase of US dollars, trade in gold and certain other metals, as well as aviation and the car industry.
The next, on 4 November, will target Iran's financial and oil institutions.
Iran is one of the world's largest oil producers, with exports worth billions of dollars each year. Nonetheless, it is already feeling economic pressures, and has seen large-scale protests over rising prices and a decline in the value of its currency, the rial.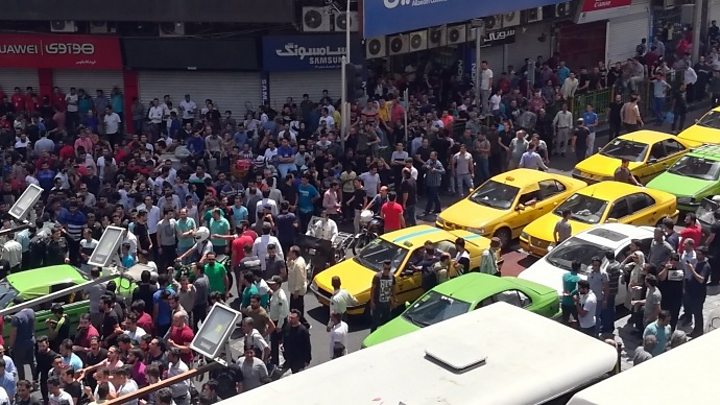 Trump and Iran's Rouhani trade angry threats