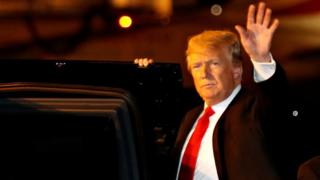 Donald Trump has defended the business dealings he had with Russia before becoming president, again calling current investigations a "witch hunt".
On Thursday his ex-lawyer admitted lying to Congress about a property deal Mr Trump was planning in Moscow.
In a series of tweets, Mr Trump said the deals were "very legal", he put up "zero money" and abandoned the project.
A special counsel is investigating Russia's role in the 2016 election and whether Mr Trump colluded with it.
No hard evidence of any collusion between the Trump campaign and Kremlin has so far been produced and the president has continually railed against the investigation.
Mr Trump is currently in Argentina for the G20 summit and has called off a meeting with Russian President Vladimir Putin, citing Moscow's seizure of three Ukrainian ships and their crews.
What has Mr Trump tweeted and why?
The president was continuing a defence that had begun on Thursday after ex-lawyer Michael Cohen had admitted one count of lying to Congress.
Cohen said he had submitted a false written statement about a Trump Organization plan to build a skyscraper in the Russian capital.
Simply put, Cohen admitted that negotiations over the project had continued far deeper into 2016, the election year, than he had told Congress and that his contacts with Mr Trump had been far more extensive.
On Friday, Mr Trump tweeted: "Oh, I get it! I am a very good developer, happily living my life, when I see our Country going in the wrong direction (to put it mildly).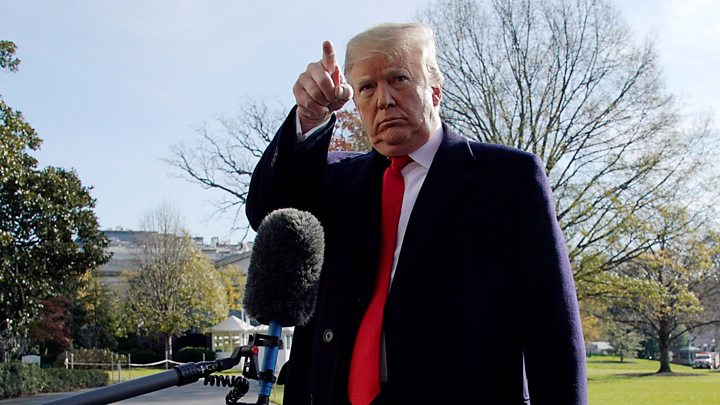 "Against all odds, I decide to run for President & continue to run my business – very legal & very cool, talked about it on the campaign trail… Lightly looked at doing a building somewhere in Russia. Put up zero money, zero guarantees and didn't do the project. Witch Hunt!"
On Thursday, Mr Trump had called Cohen "a weak person and not a very smart person".
"He's got himself a big prison sentence. And he's trying to get a much lesser prison sentence by making up this story."
He added: "He's lying about a project that everybody knew about. I mean, we were very open with it."
White House spokeswoman Sarah Sanders on Friday called the collusion investigation the "Russian witch hunt hoax", adding: "Unfortunately, it probably does undermine our relationship with Russia."
How does Cohen fit into the Russia investigations?
Until his latest admission Cohen, who once said he would take a bullet for the president, was more of a peripheral figure in the investigation into Russian collusion that is being overseen by special counsel Robert Mueller.
Mr Mueller has already brought criminal charges against a series of former Trump aides and associates, including Mr Trump's former national security adviser Michael Flynn, Russian individuals and entities.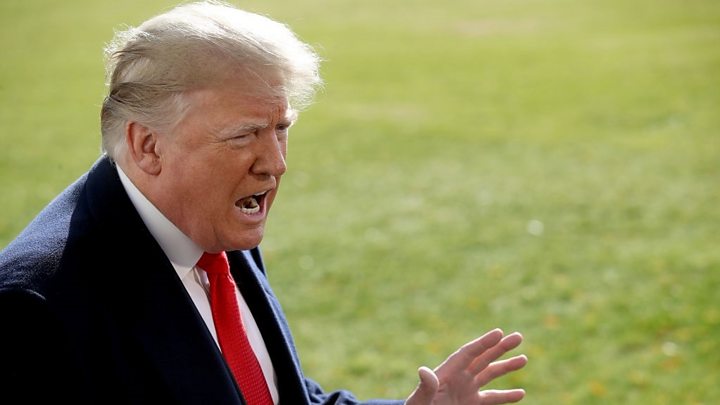 The main thrust has been whether Russian agents sought to undermine the campaign of Hillary Clinton and whether the Trump team played any part.
Cohen's testimony has highlighted the president's business empire and the extent of its Russian links. Mr Trump has continued to insist he had no financial ties to Russia.
Mr Trump has now himself provided written testimony to Mr Mueller and it is now sure to be cross-referenced with Cohen's latest admission.
Cohen has already pleaded guilty to eight criminal charges, including tax evasion, bank fraud and campaign finance violations.
What legal problems could Trump face?
Analysis by the BBC's Anthony Zurcher in Washington
Donald Trump's lawyers say that his written testimony to the Mueller investigation regarding his real estate dealings in Moscow essentially matches up with what Cohen is now telling the special prosecutor's office.
If they didn't – or there is concrete evidence any of the president's other sworn written statements are untrue – that could be legal trouble for the president. Exactly what kind of trouble, however, is an open question. Lying to federal investigators is a crime to which several Trump associates have already admitted guilt. There's an ongoing debate, however, about whether a president can be prosecuted for such transgressions while in office.
At the very least, if there is evidence that Mr Trump lied under oath, Mr Mueller could present the findings to Congress, which could then use them as grounds for impeachment proceedings.
More on Trump and Russia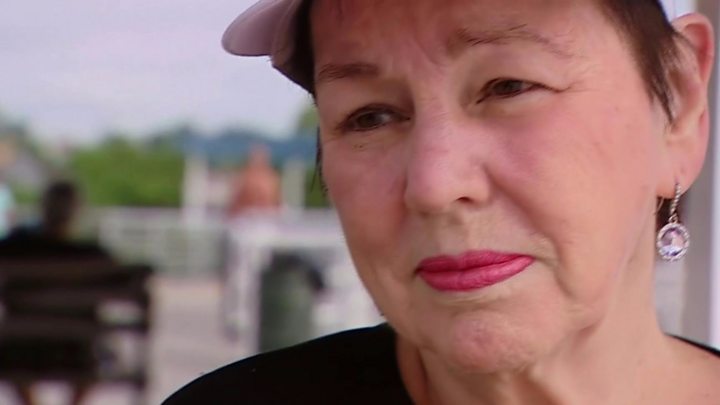 Trump defends Russia business links after ex-lawyer admits lying