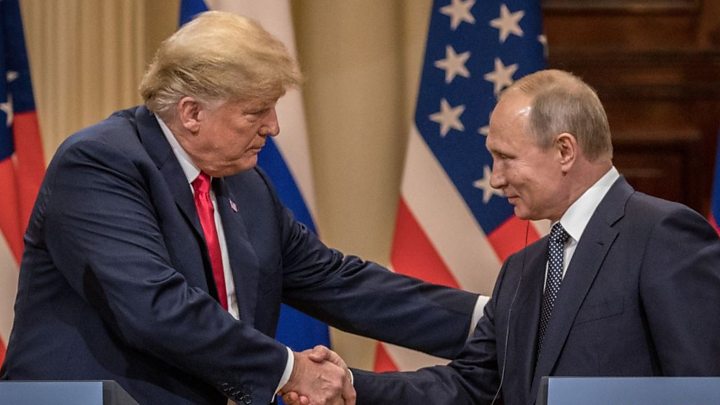 US President Donald Trump has hit back after facing fierce criticism over his summit with Russian counterpart Vladimir Putin.
He said the meeting had gone "even better" than a recent Nato summit.
After talks with Mr Putin, he contradicted his own intelligence agencies by saying he could not see any reason why Russia would meddle in the 2016 US election that he won.
The remarks drew anger even from allies in the Republican Party.
In a tweet, Mr Trump alluded to last week's Nato summit, which ended with him saying he had secured extra money for defence – something disputed by allies in the Western military alliance.
On Monday the US and Russian presidents held nearly two hours of one-on-one talks without their advisers in the Finnish capital Helsinki .
At a news conference after the summit, Mr Trump was asked if he believed his own intelligence agencies or the Russian president when it came to allegations of meddling in the 2016 presidential election.
"President Putin says it's not Russia. I don't see any reason why it would be," he replied.
Mr Trump's comments put himself out of step with US intelligence agencies, which concluded that Russia was behind an effort to tip the US election against Hillary Clinton, with a state-authorised campaign of cyber attacks and fake news stories planted on social media.
Top administration officials have accepted this conclusion, such former CIA director Mike Pompeo who is now Mr Trump's secretary of state.
Trump-Putin summit: US president hails meeting amid outcry