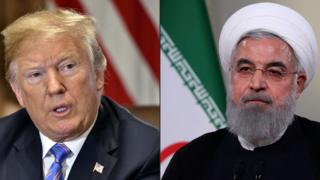 US President Donald Trump has offered to meet Iran's leaders with no preconditions, at any time they want.
"They want to meet, I'll meet. Any time they want," he said at a White House news conference with Italy's PM.
The US president's conciliatory approach comes after he and Iranian President Hassan Rouhani traded hostile warnings earlier this month.
In May, the US left a deal which curbed Iran's nuclear activities in return for the lifting of international sanctions.
Washington is preparing to re-impose sanctions on Tehran within days – despite objections from the UK, France, China, Russia and Germany, who all signed the 2015 agreement.
The US is deeply suspicious of Iranian activity in the Middle East and is an ally of Israel and Saudi Arabia, two of Iran's foes.
"I'd meet with anybody. I believe in meetings," Mr Trump added, speaking alongside Italy's Giuseppe Conte.
Last week Mr Trump responded angrily to Mr Rouhani, who had earlier warned of the consequences of a conflict with his country.
Mr Trump tweeted in capitals that Iran would "suffer consequences the likes of which few throughout history have ever suffered before" if it threatened the US.
Mr Rouhani had told Iranian diplomats: "America should know that peace with Iran is the mother of all peace, and war with Iran is the mother of all wars." His remarks were reported by Iran's state news agency Irna.
Responding to Mr Trump's broadside, Iranian Foreign Minister Javad Zarif tweeted: "Color us unimpressed."
What do the US and Iran disagree on?
Mr Trump has consistently opposed the 2015 nuclear deal, which saw the US release billions of dollars of frozen assets in exchange for curbs on Iran's nuclear programme
The Trump administration regards Iran as a destabilising force in the Middle East, arguing the nuclear deal enabled Iran to pursue a more assertive regional policy. Iran has sent hundreds of troops and thousands of volunteer militiamen to Syria, and has strengthened its military presence there
Gulf states have accused Iran of backing Yemen's Houthi rebels with both money and weapons, though Iran has denied this. Saudi Arabia, a key US ally, is a major adversary of Iran and has repeatedly warned about Iran's intentions
Why did the US withdraw from the nuclear deal?
In May, Mr Trump called the nuclear accord – or Joint Comprehensive Plan of Action (JCPOA) as it is formally known – a "horrible, one-sided deal that should have never, ever been made".
He alleged that the deal did not restrict Iran's "destabilising activities" in the region enough, and could not detect or prevent any breaking of its terms.
Analysts also cited the influence of White House Iran hawks including Mr Pompeo and US National Security Adviser John Bolton, and Mr Trump's tendency to target major policies of his predecessor President Obama.
Iran insists its nuclear programme is entirely peaceful, and its compliance with the deal has been verified by the International Atomic Energy Agency (IAEA), which has said Iran is honouring its commitments.
The IAEA has said its inspectors were granted access to all locations they needed to visit in 2017, but that they did not seek to enter any military sites, which Iranian officials declared off-limits – a move the US said raised doubts over Tehran's compliance.
In May, Mr Pompeo outlined 12 conditions for any "new deal" between the US and Iran, including the withdrawal of its forces from Syria and an end to its support for rebels in Yemen.
Iran is one of the world's largest oil producers, with exports worth billions of dollars each year. It is already feeling economic pressures, and has seen large-scale protests over rising prices and a decline in the value of its currency, the rial.
Trump says ready to meet Iran's Rouhani