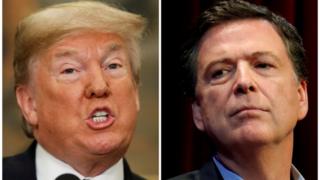 US President Donald Trump plans to revoke security clearances for ex-CIA Director John Brennan and other Obama-era critics of his administration.
The White House named six former intelligence, law enforcement and national security chiefs.
Press secretary Sarah Sanders said they had "politicised and in some cases monetised their public service" to make "baseless accusations" about Mr Trump.
They include former FBI Director James Comey, whom the president fired.
In Monday's daily news conference, Mrs Sanders also targeted former Director of National Intelligence National James Clapper, former National Security Adviser Susan Rice, former National Security Agency Director Michael Hayden and former FBI Deputy Director Andrew McCabe.
Mrs Sanders denied a reporter's suggestion that the president wanted to punish the former officials for free speech.
The press secretary said Mr Trump "doesn't like the fact that people are politicising agencies and departments that are specifically meant to not be political and to be monetised off security clearances".
She said security clearance "provides inappropriate legitimacy to accusations with zero evidence".
Mr Clapper told CNN the plan was "a very, very petty thing to do".
Mrs Sanders said that "accusing the president of the United States of treasonous activity… when you have the nation's deepest, most sacred secrets at your hands" was something that made Mr Trump "very concerned".
Mr Hayden said on Twitter after the announcement that even if the president decided to take away his clearance, it would not change anything he says or writes.
Earlier on Monday, Republican Senator Rand Paul tweeted that he had advised Mr Trump to revoke security clearance for Mr Brennan and "others partisans".
Last week, Mr Brennan called Mr Trump's summit in Finland with Russian President Vladimir Putin "nothing short of treasonous".
Trump targets Obama-era critics' security clearances