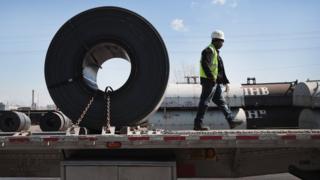 European leaders are braced for US tariffs on steel and aluminium to go into effect, as negotiations over the issue draw to a close.
The Trump administration is planning to let a temporary exemption granted to the European Union expire, The Wall Street Journal (WSJ) reported.
It was due to expire 1 June, after an extension of the original deadline.
Officials from the US and EU have been meeting in Paris over the measures, which the US announced in March.
The WSJ said the administration's plans could still change. European leaders expect a final decision to be announced on Thursday.
European Commissioner for Trade Cecilia Malmström said she was not optimistic that Europe would be able to avoid some kind of restriction, whether tariffs or export limits.
During a discussion panel at the Organisation for Economic Cooperation and Development, US Commerce Secretary Wilbur Ross said negotiations could continue, even with tariffs in place.
If the tariffs go into effect, the US would levy a 25% tax on European steel and 10% tax on the bloc's aluminium.
The EU is the world's second largest steel producer after China. An estimated 320,00 people work in the steel industry across the region.
How did this begin?
The Trump administration announced the tariffs in March citing the need to protect domestic steel and aluminium producers for national security reasons.
Certain countries, including the EU, were granted exemptions, pending discussions of trade terms.
The US has granted more permanent exemptions from the tariffs to some countries, such as South Korea, in exchange for limits on the exports.
When the White House announced the measures, the EU threatened to retaliate with tariffs on American imports such as orange juice, cranberries and bourbon.
China has already levied new taxes on $3bn worth of US goods, including wine, as retaliation for the steel and aluminium tariffs.
Trump tariffs: Europe braced for US tariffs on steel and aluminium