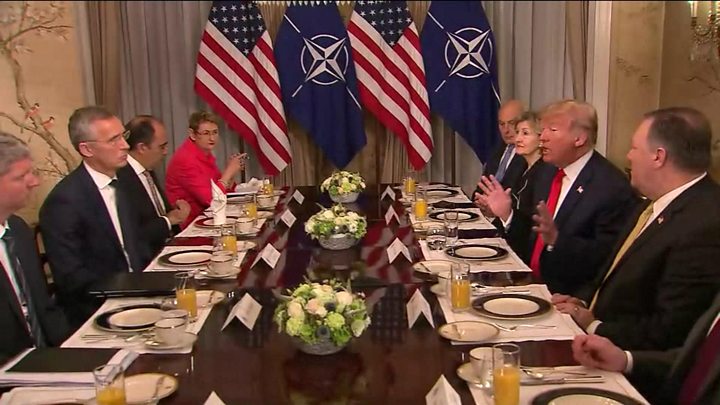 US President Donald Trump has urged Nato allies to commit 4% of their annual output (GDP) to military spending – double the current target.
The White House confirmed he had made the remarks during the Western military alliance's summit in Brussels.
Earlier, Mr Trump criticised Germany over its defence spending and energy reliance on Russia.
Nato's secretary-general said the main focus should be on all members reaching the current target of 2% of GDP.
Jens Stoltenberg declined to answer a specific question about Mr Trump's remarks, but told reporters: "I think we should first get to 2%, focus on that now… the good thing is that we are moving to that."
For decades after the end of the Cold War, he said, Nato countries had cut defence budgets as tensions fell – and now needed to increase them at a time when tensions were rising.
Previous US presidents have urged Europe to take more responsibility for their defence and reduce the burden on US taxpayers of maintaining forces in Europe long after the end of the Cold War – but none as bluntly as Mr Trump.
In a statement, White House spokeswoman Sarah Sanders said: "During the president's remarks today at the Nato summit he suggested that countries not only meet their commitment of 2% of their GDP on defence spending, but that they increase it to 4%. The president raised this same issue when he was at Nato last year.
"President Trump wants to see our allies share more of the burden and at a very minimum meet their already stated obligations."
What is the spending row about?
Mr Trump's main objection is that all but a handful of member states have still not increased their defence budgets to meet a goal of spending at least 2% of their annual economic output on defence by 2024.
Of Nato's 29 members, just five meet that target this year: the US, Greece, Estonia, the UK and Latvia.
However, several, such as Poland and France, are close to the mark.
Trump urges Nato members to double military funding target