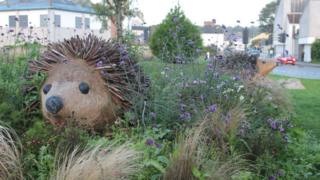 A roundabout featuring a family of four giant wooden hedgehogs has been named as the best in the UK.
The Roundabout Appreciation Society (RAS) praised the "quirky" roundabout in Truro, which features hedgehogs named Cecile, Patricia, Denzil and Kizzy.
The RAS also highlighted "beautiful" and "magnificent" roundabouts in Birmingham, Goole and Swindon.
The top examples will feature in the society's 2020 calendar.
President Kevin Beresford – the self-styled "Lord of the Rings" – said the hedgehog roundabout would take the "coveted December page".
He said: "It's beautiful. We always like to see something quirky and with a bit of imagination."
Mr Beresford added: "We get a lot of what we call 'Titchmarshes', which is when they are in full bloom… but it's always nice to see something a bit different."
Truro's hedgehog roundabout named best in UK – BBC News