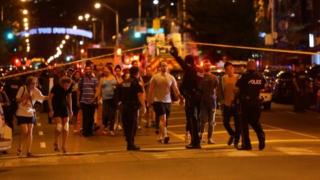 Two people, including the gunman and a young woman, have been killed and 13 others injured in a shooting incident in Toronto, Canadian police say.
The shooting happened in the Danforth and Logan avenues area on Sunday night.
Among those injured is a young girl, described as in a critical condition. Police are appealing for witnesses.
Some of the victims were treated at the scene, while others have been taken to local hospitals. The motive for the shooting is not clear.
Jeremy Cohn, a journalist with @globalnewsto, posted footage from the scene, saying that "victims are spread across many blocks".
Jody Steinhauer told CBC News she was with her family in a restaurant in the area when she heard what sounded like 10 to 15 blasts of firecrackers.
"We started to hear people scream out front," she said.
Details of the incident are still sketchy.
Two dead as 15 people shot in Toronto