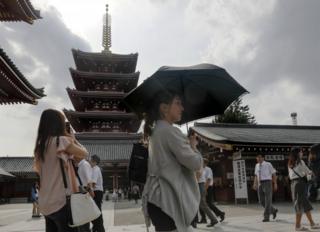 Hundreds of flights have been cancelled in Japan as the country braces for a powerful typhoon, bringing winds of up to 180km/h (110mph).
Typhoon Jongdari (or "skylark" in Korean), is expected to make landfall on the country's main island, Honshu, late on Saturday or early on Sunday.
The storm comes less than a month after floods killed more than 200 people, and then a heatwave left dozens dead.
Japan's Meteorological Agency has told locals to be ready for evacuation.
At 18:05 local time (09:05 GMT) Jongdari was situated about 200km south of Tokyo and forecast to make landfall close to the city of Nagoya.
More than eight million people were ordered to leave their homes earlier in July when torrential rain saw rivers burst their banks, but some became trapped after failing to heed the order.
Critics said the official warning came too late, and officials are urging those in disaster-struck areas to stay vigilant.
"We are afraid that people may not be able to evacuate due to strong wind or floods blocking evacuation routes," said Hiroshima's governor, Hidehiko Yuzaki.
"I would like people to evacuate in advance so that they can save their lives."
'Double punch'
The prefectures worst hit by flooding were Okayama, Hiroshima and Yamaguchi, in the Chugoku region, and more than 4,000 survivors are still living in temporary shelters there.
"We are fully ready 24 hours a day to evacuate residents," Tadahiko Mizushima, an official in Okayama, told the AFP news agency.
"We are paying special attention to the areas where restoration of river banks is under way as it would be the first heavy rain since the disaster."
"It's going to deal a double punch," one Okayama man told Japan's public broadcaster NHK. "We are seriously worried."
Sandbags are being rapidly deployed as barriers against the feared flooding.
Images already show sizeable waves off the coast south-west of Tokyo, and ferry services are suspended. Forecasters say the area around the capital could see 40cm (15in) of rain in 24 hours from noon on Saturday.
The floods earlier in July were Japan's worst weather disaster in decades, and were swiftly followed by an unprecedented heatwave which has been declared a natural disaster.
At least 80 people have been killed by the temperature, and more than 22,000 hospitalised with heat stroke.
The country is now in the grip of typhoon season, which sees tropical storms barrel across the Pacific throughout the summer months.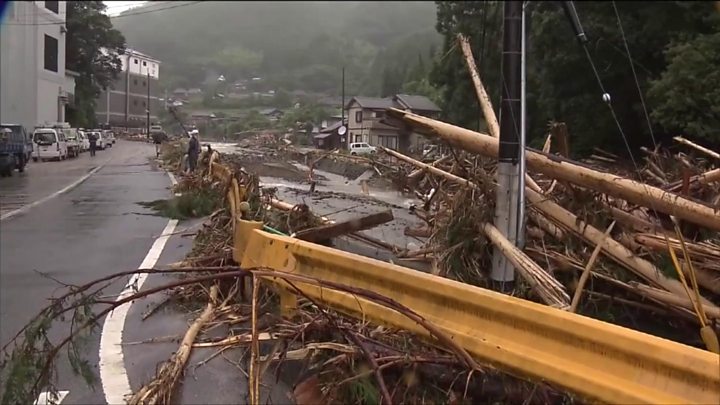 Typhoon Jongdari: Weather-ravaged Japan braces for powerful storm}