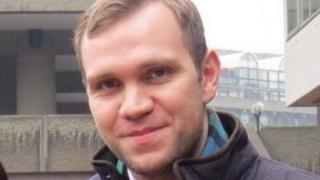 The British academic jailed for spying in UAE has thanked his "brave and strong" wife Daniela Tejada for helping secure his release.
Matthew Hedges, 31, landed back at Heathrow Airport on Tuesday morning after receiving a pardon.
He said: "I could not have done this without Daniela. I hear her face is everywhere.
"She is so brave and strong, seeing her and my family after this ordeal is the best thing that could have happened."
Mr Hedges, who was arrested at Dubai airport in May, said he was innocent and had been researching the country's security strategy as part of his PhD studies at Durham University.
However, a spokesman for the UAE government said Mr Hedges was "100% a secret service operative".
UK academic jailed in UAE returns home}