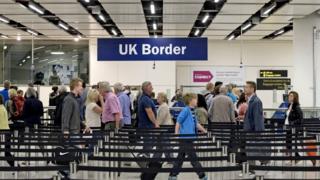 Immigration from the EU has continued to fall as fewer people arrive in the UK for work, the Office of National Statistics says.
The ONS says the number of EU workers arriving in the UK has halved since its peak before the Brexit referendum.
That fall is the main reason why EU immigration has reached its lowest level since 2013, it says.
The ONS warned that it underestimated EU migration up to 2016, and it has not yet adjusted the post-2016 figures.
UK migration: EU immigration fall 'driven by workers'}