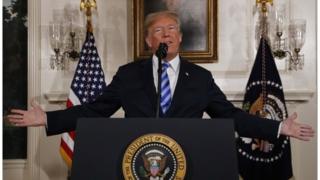 The UK, along with France and Germany, has said it remains committed to the Iran nuclear deal, insisting that it has left the world "a safer place".
In a joint statement issued with European her counterparts, Theresa May said she regretted Donald Trump's decision to exit the 2015 agreement.
The group said the accord "remains important for our shared security".
"We urge all sides to remain committed to its implementation and to act in a spirit of responsibility", they wrote.
"Our governments remain committed to ensuring the agreement is upheld, and will work with all the remaining parties to the deal to ensure this remains the case including through ensuring the continuing economic benefits to the Iranian people that are linked to the agreement," they added.
"After engaging with the US Administration in a thorough manner over the past months, we call on the US to do everything possible to preserve the gains for nuclear non-proliferation brought about by the JCPoA, by allowing for a continued enforcement of its main elements."
Iran also indicated it would seek to continue the deal struck with the UK and its other signatories, China, Russia, Germany, France and the European Union.
Under the terms of the landmark deal, Iran agreed to limit its nuclear activities in return for the easing of sanctions on its economy.
But Mr Trump said it was "defective" and rather than thwarting the Iranian regime's ambitions to acquire a nuclear bomb, the "rotten and decaying" agreement had left Tehran on the "brink of a nuclear breakout" which would, in turn, fuel an arms race in the Middle East.
Mr Trump said the US would impose the highest level of sanctions on Tehran and any country that tried to help Iran evade economic sanctions would also be penalised.
The US President said he had engaged with the UK and other allies and partners before making the decision.
"As we exit the Iran deal we will be working with our allies to find a real, comprehensive and lasting solution to the Iran nuclear threat," he said.
French President Emmanuel Macron, who visited Washington last month, said he regretted the decision.
The BBC's diplomatic correspondent James Landale said British, French and German support for the agreement, plus their united front in relation to Russia, had brought the three countries closer together.
UK 'remains committed to Iran nuclear deal'}