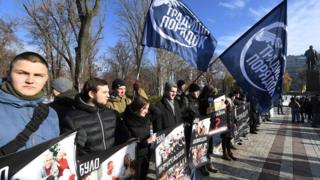 Far-right militants in Ukraine have disrupted a march by transgender activists in the capital Kiev.
Two young women were attacked – and then mocked as they received medical attention. Canadian journalist Michael Colborne was punched in the face.
Another reporter said police officers manhandled the activists and did nothing to stop the far-right throwing smoke bombs. They deny the charge.
Homophobia is still commonplace in post-Soviet Ukraine, analysts say.
However, the authorities have allowed gay pride marches to take place in the past.
About 30 people turned up for Sunday's rally, holding rainbow flags and banners that said, "Transphobia must be stopped".
Far-right protesters threw smoke bombs into the crowd, reporters said.
Police intervened to lead activists into an underground station.
Organisers later said the events had demonstrated that "the level of far-right radical aggression and violence is increasing in Ukraine".
Mr Colborne said police had opened an investigation into his case. Canada's Ambassador to Ukraine Roman Waschuk urged the government to reassert its commitment to media protection.
Ukraine transgender rally disrupted by far-right militants