CHAPEL HILL, N.C. — Jake Lawler wakes up at 5:45 a.m. Treatment and meetings follow.
This is the life of a college football player. Early morning breakfasts, meetings and lifts aren't new to Lawler or any other student-athlete.
What is new this spring for Lawler and the other North Carolina football players is early morning practices. The Tar Heels are practicing from 9-11 a.m. this spring after previously practicing at the end of the school day, from around 4-6 p.m. It's been an adjustment for the players.
"I do like it better," defensive end Jake Lawler said. "I think that it just gives us some more time after to work on some school stuff whereas if we were in the afternoons it would be a little strenuous to do that, so I think getting in (in the mornings) and getting it fresh and early, everyone is alert, ready to go and I think that helps a lot."
The players all referenced how much easier it was from a classwork perspective to have morning classes. Now, instead of going to study hall late at night after an evening practice, the players can go and get their schoolwork done much quicker.  
"Last year, we'd do practices late," tight end Carl Tucker said. "I'd have to stay up late and do homework, papers and stuff like that. But being able to do stuff in the morning, get it all out of the way, it makes it so much easier for school. I can get my papers done, I've got time to study more, and there's just a lot more leeway. We can get stuff done earlier so we can get to bed earlier."
The morning classes don't conflict with class schedules as the players planned to leave that block of time on Tuesday and Thursday mornings open. Some have classes on Tuesday and Thursdays starting at 12:30, so they have to make sure they leave the practice facility rapidly in order to make it to class on time. But for other players, the practice schedule is great because it's all they have to do on those days.  
"I love it," wide receiver Beau Corrales said. "I don't have class on Tuesday/Thursdays so I go to practice then I'm done for the day. So I'm chilling and I think the rest of the guys really like it, too, because we get a little bit more extra free time at the end of the day."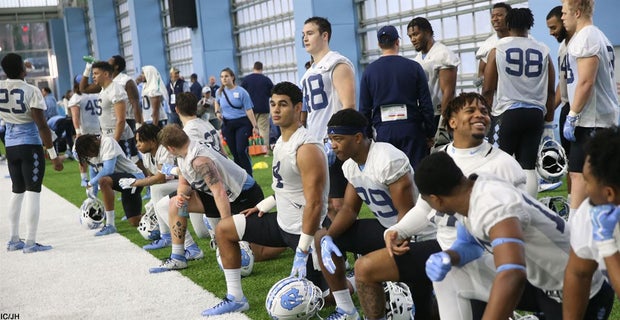 Morning practices were something that former UNC head coach Larry Fedora had planned to do this spring. Mack Brown had to adopt them because the academic schedule for the players was already locked into that morning schedule when he took over the reins.
"I've never practiced early before," head coach Mack Brown said. "This is brand new for me. Coach Fedora had the academic schedule changed, so we didn't have any choice. It was already locked in. Obviously, if you get here in November, or get here in December, really, the academic schedules for the next semester have already been put in place. You can't change them. So we are trying it out to see what we like."
Brown noted one benefit for the players – "The positive thing about early morning practices is they get up, so they have to go to sleep," he said. North Carolina tracks its own, private data on the players' sleep habits and there is a growing body of research on the subject, like how chronic lack of sleep is associated with increased sports injuries in adolescent athletes. Regardless of what UNC's internal data or the science says, it's hard to argue that getting more sleep is a negative for the football players. 
The biggest benefit for the coaches is that they get to review practice tape at around lunch time and then can discuss it with the players that same day.
"They can get a lift in, in the afternoon, and meet with their coaches," Brown said. "So the coaches will meet with them this afternoon at three o'clock. So that gives them a chance to go back over all the video and the coaches can actually go home at night instead of staying over here all night. So you've got to get up at about five to get started, but at the end of the day, everybody seems like they like it better because you are fresher in the morning practice."
Despite those early mornings, most players appreciate the tradeoff and the additional time in the evenings. It also doesn't hurt to be more alert and fresh during practice times as UNC looks to install a new offense and defense under new coordinators Jay Bateman and Phil Longo. 
Going forward, North Carolina isn't sure it will be able to continue practicing in the mornings next season and beyond. Brown said they are checking with the University to see how feasible that is. But, feedback from coaches and players has been so positive that the decision might be taken out of Brown's hands.
"I've asked the coaches – they are 100 percent that they like it and would like to do it the next year," Brown said. "So we went to the players and we asked them and it was 100 percent. So I don't know that I'll have any input because if everybody else out here likes early practices, I'll have to think we'll be doing it."