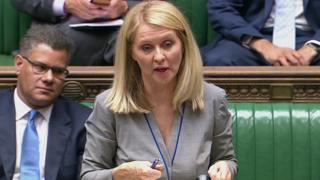 Esther McVey has faced calls to quit over "inadvertently misleading" the Commons about the official NAO spending watchdog's view of Universal Credit.
Labour said the work and pensions secretary either "misread" or "chose to misrepresent" the NAO report and "either way, she should resign".
Ms McVey said she would meet the NAO boss on Monday and again apologised for "the phrasing of the words" she used.
But she insisted that Universal Credit was helping people get into employment.
For the second successive day in the Commons she stood by her claim that the NAO (National Audit Office) report on Universal Credit did not take into account the latest developments, saying that changes made earlier this year had not fed through during the period covered, which was to April this year.
The head of the NAO – Sir Amyas Morse – took the unusual step on Wednesday of publicly writing to Ms McVey to take issue with how she had responded to the report on Monday.
Among the issues he raised, he said: "I'm afraid your statement that the NAO was concerned Universal Credit is currently 'rolling but too slowly' and needs to 'continue at a faster rate' is also not correct.
"While we recognise regrettable early delays, my recommendation made clearly on page 11 of the report is the department must now ensure it is ready before it starts to transfer people over from previous benefits."
Ms McVey apologised for her wording on this point when she appeared in the Commons on Wednesday, and again on Thursday.
She explained her error to MPs by saying the report had said there was "no practical alternative" to Universal Credit and that it had also said it regretted the slow pace of its roll-out, so she had taken that to mean the NAO was recommending it be speeded up.
She added: "If people know me they will always say about me I am open and I am straight and I will say it is as it is."
Shadow work and pensions secretary Margaret Greenwood said: "The secretary of state should be ashamed she has been forced to come to this House again.
"Why and how did she come to say falsely over two separate occasions in this Parliament that the NAO report said the roll-out of Universal Credit should be speeded up?
"How can these statements be inadvertent slips of the tongue? Has she ever read the NAO report? If she has, how can she draw the conclusions that she has? If she misread these reports so badly, this brings into question her competence and her judgement.
"If she did the read the report and chose to misrepresent its findings, she has clearly broken the ministerial code. Either way, she should resign."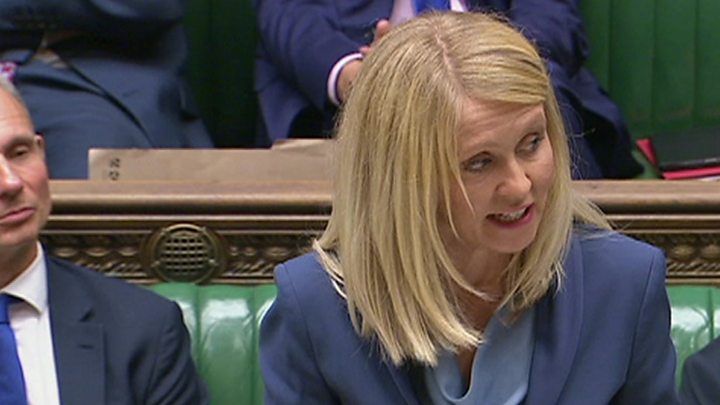 In the report published last month, the NAO said the government's flagship benefits system was not delivering value for money and could end up costing more to administer than the benefits system it is replacing.
It warned some claimants switching to Universal Credit, which rolls six working-age benefits into one, had waited eight months to be paid.
While the report noted that the Department for Work and Pensions did "not accept" that Universal Credit had caused hardship among claimants, it pointed to a recent internal departmental report that showed 40% of claimants were experiencing financial difficulties.
What is Universal Credit?
Universal Credit merges six benefits (income support; income-based jobseeker's allowance; income-related employment and support allowance; housing benefit; child tax credit; working tax credit) into one.
It was designed to make claiming benefits simpler. A single payment is paid directly into claimants' bank accounts to cover the benefits for which they are eligible.
Claimants then have to pay costs, such as rent, out of their UC payment. It can be claimed by people whether they are in or out of work – but payment decreases as you earn more.
SNP frontbencher Alison Thewliss said the NAO report "blows a hole as wide as the Clyde through everything the Tories have been saying" on Universal Credit.
Labour MP Meg Hillier asked Ms McVey to confirm that she had confidence in the NAO, with the minister replying that "they do their job".
Ms McVey said her department believed Universal Credit would bring a £34bn benefit to the UK economy over the next 10 years and a 200,000 increase in employment.
She said that Labour had predicted that a million more people would be unemployed if Universal Credit was brought in, but actually millions more people were in work and she added: "I have never asked Labour to apologise for their misleading figures."
Universal Credit is currently available in 353 job centres and the government says it is "on track" to be rolled out to all job centres nationally by the end of 2018.
In her 2 July statement, Ms McVey said 83% of claimants who responded had said they were satisfied with customer service.
Universal Credit: Labour says Esther McVey should resign}