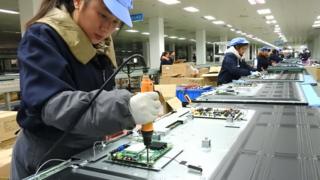 China and the US say they will halt imposing punitive import tariffs, putting a possible trade war "on hold".
The agreement came after days of talks in Washington DC aimed at persuading China to buy more US goods and services, therefore reducing the trade imbalance between the two countries.
US Treasury Secretary Steven Mnuchin said China would lower tariffs "on many things", without specifying.
Chinese Vice-Premier Liu He described the deal as a "win-win choice".
Washington says the move will "substantially reduce" its $335bn annual trade deficit with Beijing.
But no figures have been provided – the White House had being aiming for a $200bn reduction.
Mr Mnuchin told Fox News the two sides had made "very meaningful progress" and we agreed a framework deal under which China would buy more US goods "to substantially reduce the trade deficit".
But he added: "We are putting the trade war on hold. Right now we have agreed to put the tariffs on hold while we try to execute the framework" of the agreement.
Mr Mnuchin said the two sides had agreed concrete numbers, which he did not want to disclose. US Commerce Secretary Wilbur Ross would travel to China soon, he said, apparently to work on details.
$462.6bn
The value of of goods bought by the US from China in 2016.
18.2% of all China's exports go to the United States

$129bn worth of China-made electrical machinery bought by US

59.2% growth in Chinese services imported by US between 2006 & 2016

$347bn US goods trade deficit with China
US President Donald Trump had threatened to impose tariffs on up to $150bn of Chinese goods.
He has said he wants to persuade China to end what he calls the theft of American intellectual property – such as technology and copyright.
The US has already announced tariffs on imports of steel and aluminium. Countries accounting for the bulk of those imports have been exempted, but China is not among them.
Beijing has threatened equal retaliation, including tariffs on a number of US imports – among them aircraft, soybeans, cars, pork, wine, fruit and nuts.
US and China halt imposing import tariffs