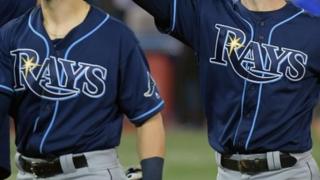 US baseball player Blake Bivens' wife, one-year-old son and mother-in-law have reportedly been found dead at their home in rural Virginia.
Mr Bivens' brother-in-law Matthew Bernard, aged 19, was later arrested after being spotted running near the scene without any clothes.
He has been charged with three counts of first-degree murder.
Mr Bivens, a pitcher attached to Major League Baseball's side Tampa Bay Rays, was in Alabama at the time.
The 24 year old learned about the incident just hours before he was due to play for Minor League Baseball's Montgomery Biscuits. That game has now been postponed as a mark of respect.
In a statement posted on Twitter, Tampa Bay Rays said: "Our hearts are broken for Blake. We are grieving with him and will support him any way we can..
The Montgomery Biscuits said in a statement that their "thoughts and prayers" were with Mr Bivens "and all those who have been impacted by this tragedy".
Police said that at about 08:00 local time (1200 GMT) they responded to reports of shots being fired at a residence in Keeling, Virginia.
Arriving at the scene, they found a woman dead on the driveway and two other bodies inside the property. A dead dog was also discovered.
Mr Bernard was named as a suspect and in a statement local authorities said he was armed with a rifle and "very dangerous".
He was described in the statement as "wearing a white T-shirt", but was spotted nearby hours later, completely naked.
Local media filmed images of the police pursuit, during which he allegedly attacked a man outside Keeling Baptist Church.
He was later chased down a road where police tasered and arrested him at about 12:18.
The police operation involved nearly 100 officers.
"In my wildest dreams, I never could have imagined it. Not him," his uncle, Bryant Bernard, told local TV news station WSLS.
"This boy's a Christian. Went to church every Sunday, every Wednesday, every Sunday night. Taught youth groups. Just an all-around perfect kid, in my opinion," Mr Bernard said.
Police have not yet disclosed a possible motive for the attack.
Mr Bernard told WSLS that, last week, Matthew had revealed to his mother that he had been having "bad dreams," but did not go into further details.
The names of the victims have not been released either, but ESPN reported that the deceased were his mother, sister and nephew.
Mr Bivens was picked to play for the Rays in 2014 after leaving school in Virginia. He married his wife Emily two years later, and according to social media their child, Cullen, turned one in June.
A GoFundMe campaign has raised more than $17,000 to support the victims' family.
US baseball player's family 'murdered by brother-in-law'