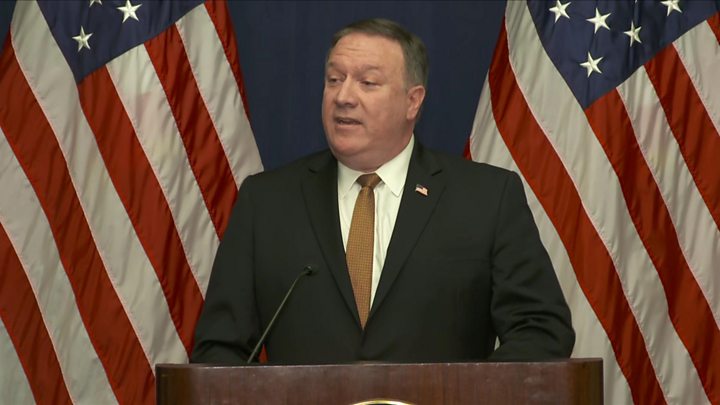 US Secretary of State Mike Pompeo has said denuclearisation talks with North Korea are "moving in the right direction".
After meeting in New York with a top Pyongyang official, Mr Pompeo said they had made "real progress".
He said Kim Jong-un's right-hand man was heading to Washington to deliver a letter to President Donald Trump.
Gen Kim Yong-chol is the most senior North Korean to visit the US in nearly 20 years.
President Trump cancelled plans for a summit on 12 June with the North Korean leader, but both sides are trying to revive the meeting.
Scheduled to happen in Singapore, a bilateral between Mr Trump and Mr Kim would be the first between sitting US and North Korean leaders.
At a press conference on Thursday, Mr Pompeo said this was a "pivotal moment in our relationship in which it could be nothing short of tragic to let this opportunity go to waste".
America's top diplomat said this was a "once in a lifetime opportunity to change the course for the world" and usher in "a new era of peace, prosperity and security".
On Wednesday evening, Mr Pompeo and Gen Kim – who is vice-chairman of North Korea's ruling Workers' Party's Central Committee – arrived separately at a building close to the UN headquarters.
Emerging later, the secretary of state tweeted: "Good working dinner with Kim Yong Chol in New York tonight. Steak, corn, and cheese on the menu."
What is at stake?
The US has long called on North Korea to abandon its nuclear weapons programme, but Pyongyang maintains it needs the weapons for its security.
Amid violent rhetoric from both nations' leaders, reports that North Korea is approaching the capability to launch a nuclear-tipped missile that could reach the US has focused minds in Washington.
In exchange for North Korea giving up its atomic arsenal, the US could possibly relax sanctions, offering food and other aid to the impoverished country.
However, Pyongyang has strongly objected to statements by Trump administration officials comparing North Korean denuclearisation to Libya's.
Former Libyan leader Colonel Gaddafi gave up his nuclear programme only for him to be killed by Western-backed rebels a few years later.
North and South Korea have technically been at war for decades since military combat ended on the peninsula in 1953 without a peace agreement.
Who else has been talking?
North Korea's Deputy Foreign Minister Choe Son-hui has also met Sung Kim, a former US ambassador to South Korea, at Panmunjom on the border between the two Koreas.
The two diplomats have faced one another before during previous denuclearisation negotiations.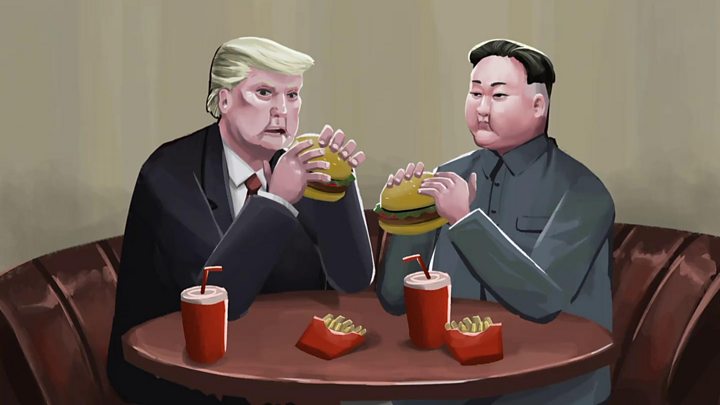 In Singapore itself, a US team led by White House official Joe Hagin is thought to be meeting Kim Chang-son, the de facto chief of staff to the North Korean leader, to talk about logistics.
Meanwhile, Russian Foreign Minister Sergei Lavrov is in Pyongyang for talks with Mr Kim, the first time the North Korean leader has met a senior Russian official.
Mr Lavrov extended an invitation to Mr Kim to visit Moscow.
Mr Lavrov also spoke to Mr Pompeo for the first time on Wednesday, by phone.
US confident on plans for Trump-Kim talks}