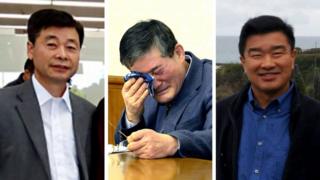 Three Americans released by North Korea on Wednesday have thanked President Donald Trump and his Secretary of State Mike Pompeo for securing their freedom.
The men are flying to Andrews Air Force Base near Washington, where Mr Trump will welcome them early on Thursday.
The White House said they had been freed as a gesture of goodwill ahead of the planned meeting between Mr Trump and North Korean leader Kim Jong-un.
Mr Trump said the venue for the talks would be announced "within three days".
"We would like to express our deep appreciation to the United States government, President Trump, Secretary Pompeo and the people of the United States for bringing us home," Kim Hak-song, Tony Kim and Kim Dong-chul said in a statement.
"We thank God and all our families and friends who prayed for us and for our return."
The three men had been jailed for anti-state activities and placed in labour camps.
Their release came during a visit to Pyongyang by Mr Pompeo to arrange details of the meeting between Mr Trump and Mr Kim.
"I appreciate Kim Jong-un doing this and allowing them to go," Mr Trump said.
In his tweet, Mr Trump added that he would personally greet the detainees when they arrive at Andrews Air Force Base at 02:50 EDT (06:50GMT) on Thursday.
The trio flew out of North Korea with Mr Pompeo on a US Air Force plane before switching to an aircraft with better medical equipment at the Yokota Air Force Base near Tokyo.
"All indications are at this point that their health is as good as could be given that they've been held," Mr Pompeo said.
Kim Jong-un said he accepted a US proposal to grant the three detainees an amnesty, adding that his meeting with President Trump would be an "excellent first step" towards improving the situation on the Korean peninsula, according to the North Korean state news agency KCNA.
One of the detainees was jailed in 2015, the other two have been in prison for just over a year. Their convictions have been widely condemned as political and an abuse of human rights.
Who are the freed Americans?
Kim Hak-song was held on suspicion of "hostile acts" in May 2017. He had previously described himself as a Christian missionary who intended to start an experimental farm at the Pyongyang University of Science and Technology (PUST)
Tony Kim, also known as Kim Sang-duk, also worked at PUST. He was detained in April 2017 on espionage charges. According to South Korean media, he had been involved in humanitarian work in the North.
Kim Dong-chul, a pastor in his early 60s, was detained in 2015 on spying charges, and was then sentenced to 10 years hard labour.
Who are North Korea's American detainees?
What has the reaction been?
South Korea's presidential Blue House said the prisoners' release would have a "positive effect" on upcoming negotiations.
Spokesman Yoon Young-chan also called upon the North to release six South Koreans it has in prison.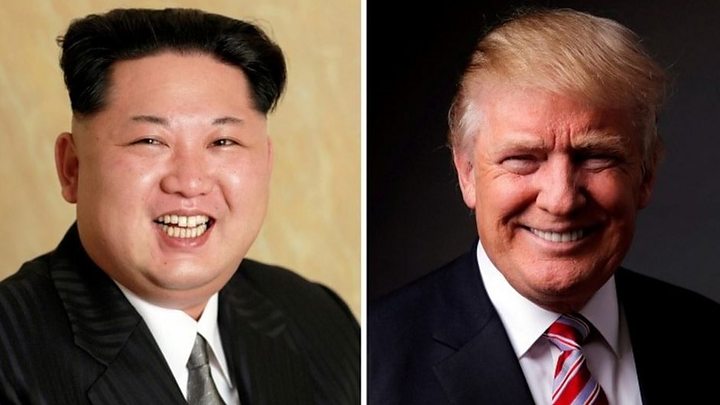 "In order to reinforce reconciliation between South Korea and North Korea and to spread peace on the Korean peninsula, we wish for a swift repatriation of South Korean detainees," Mr Yoon said.
In a statement provided to the BBC, the family of Tony Kim said they "want to thank all of those who have worked toward and contributed to his return home".
"We also want to thank the President for engaging directly with North Korea," the family said.
What are North Korean prisons like?
Some 120,000 people are believed to be imprisoned in North Korea without due process, according to the Committee for Human Rights in North Korea (HRNK).
People can be jailed by the regime for almost anything, activists say, with crimes ranging from watching a South Korean DVD to trying to defect from the country.
Political prisoners are often sent to separate prisons – usually brutal labour camps, which involve difficult physical work such as mining and logging.
American missionary Kenneth Bae, who was sentenced to hard labour, later said he was forced to work on a farm six days a week despite being in poor health.
The last American to be freed – Otto Warmbier, who was jailed for stealing a hotel sign – was released last year but was fatally ill, and died shortly after returning home.
His parents, Fred and Cindy Warmbier, said they were "happy for the hostages and their families. We miss Otto".
How are the summit preparations going?
The time, date and location have been decided, according to Mr Trump, but not yet announced.
He said the talks would not be held at the Demilitarized Zone (DMZ) that separates North and South Korea, one of the suggested venues, and Singapore remains the most likely option.
Mr Pompeo said there had been "good and productive conversations" with Mr Kim.
"We're planning it will be a single day, but in the event that there is more to discuss, there'll be an opportunity for it to extend into the second day as well," Mr Pompeo said.
The key issue, of course, will be North Korea's nuclear weapons, which Mr Trump has demanded Pyongyang give up.
There has been no word from North Korea on its agenda or what it might offer, although a key issue is certain to be the presence of 30,000 US military personnel in South Korea, along with the removal of sanctions.
US detainees thank Trump for release from North Korea