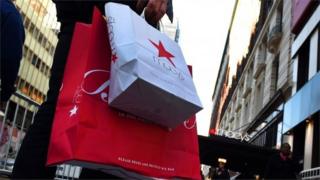 Growth in the US economy accelerated in the second quarter of the year, expanding at an annualised rate of 4.1%, official figures show.
The rate was the fastest seen since the third quarter of 2014.
Growth was boosted by consumer spending and farmers bringing forward exports of soybeans to China to beat the imposition of trade tariffs.
The annualised growth rate for the first quarter of the year was also revised up to 2.2% from 2.0%.
Figures from the Commerce Department showed that consumer spending rose at a rate of 4% in the second quarter, up from the 0.5% rate seen in the previous three months.
Exports grew at the fastest pace since the fourth quarter of 2013, as companies sought to avoid the new tariffs.
The US imposed tariffs on $34bn worth of Chinese goods from 6 July, and China responded in kind, with its tariffs targeting US soybeans and other agricultural goods.
The 4.1% growth rate for the second quarter was in line with analysts' expectations. However, economists are not sure the economy will be able to sustain such a rate given the current trade tensions and with US interest rates on the rise.
US economic growth at near four-year high