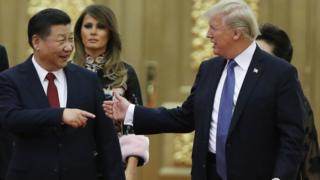 The US has ramped up its trade war with China, outlining a list of $200bn (£150bn) worth of additional products it plans to place tariffs on.
The move comes just days after the US and China imposed tit-for-tat tariffs of $34bn on the other countries' goods.
President Donald Trump last month threatened additional tariffs against China if it retaliated.
The list includes agricultural products, minerals and consumer goods such as handbags, among other items.
The public will have a chance to comment on the list before the new tariffs go into effect.
The White House says the tariffs – to be imposed at 10% – are a response to unfair trade practices by China.
Administration officials said they hoped the measures would convince the Chinese government to increase market access for US companies and address allegations of theft of intellectual property.
US fires next shot in China trade war