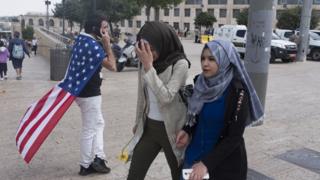 Nine Palestinians in Gaza have been shot dead by Israeli troops in some of the bloodiest clashes for weeks, Palestinian officials say.
It comes ahead of the controversial opening of the US embassy in Jerusalem, which has infuriated Palestinians.
They see it as clear US backing for Israeli rule over the whole city, whose eastern part Palestinians lay claim to.
Top US officials, including President Donald Trump's daughter and her husband, will attend the event.
Gaza's Islamist rulers, Hamas, have led mass protests in a "Great March of Return" aimed at breaching the border fence over the past six weeks.
The Hamas-run health ministry said a 14-year-old boy had been among those killed on Monday, and 500 people had been injured.
It brings to 54 the number of Palestinians killed since the protests began. Thousands more have been wounded.
Why is the embassy move so controversial?
The status of Jerusalem goes to the heart of the Israeli-Palestinian conflict.
Israeli sovereignty over Jerusalem is not recognised internationally and, according to the 1993 Israel-Palestinian peace accords, the final status of Jerusalem is meant to be discussed in the latter stages of peace talks.
---
But is it good for peace?
By Jeremy Bowen, BBC Middle East editor, Jerusalem
The embassy move is the culmination of one of the best weeks in the political life of Israel's Prime Minister, Benjamin Netanyahu.
First President Trump kept his promise to pull out of the Iran nuclear deal. Now the US embassy is moving.
Placards in Jerusalem praise Mr Trump. The local football club, Beitar, infamous for fans who chant "death to Arabs", has included "Trump" in its name.
The embassy move has been rejected by the main allies of Israel and the US. Palestinians are protesting in their thousands in Gaza.
It is much more low-key in the West Bank, including occupied East Jerusalem.
The embassy move is good for the Netanyahu government, good for President Trump's base and makes most Israelis pleased but there is no evidence to back Mr Netanyahu's claim that it is good for peace.
---
Israel has occupied East Jerusalem since the 1967 Middle East war. It effectively annexed the sector, though this was not recognised by any countries until Mr Trump's declaration in December 2017.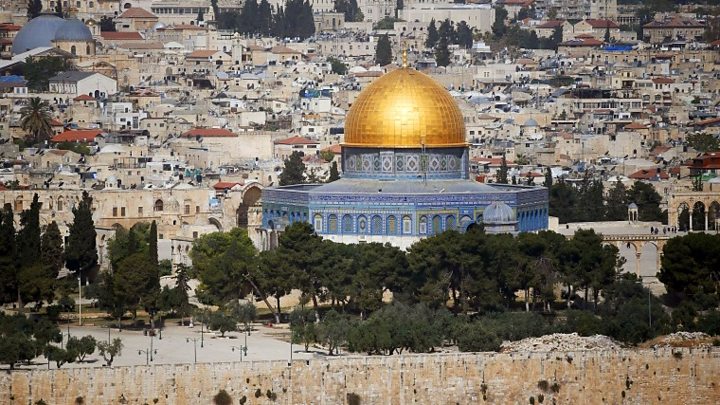 Since 1967, Israel has built a dozen settlements, home to about 200,000 Jews, in East Jerusalem. These are considered illegal under international law, although Israel disputes this.
Various countries once had embassies based in Jerusalem but many moved after Israel passed a law in 1980 formally making Jerusalem its capital.
President Trump's decision last year to recognise Jerusalem as Israel's capital broke with decades of US neutrality on the issue and put it at odds with most of the international community.
What will be opened and who will attend?
A small interim embassy will start operating on Monday inside the existing US consulate building in Jerusalem.
A larger site will be found later when the rest of the embassy moves from Tel Aviv.
The opening ceremony was brought forward to coincide with the state of Israel's 70th anniversary.
President Trump is expected to address those attending Monday's event via video link.
Alongside Ivanka Trump and Jared Kushner, who are both senior White House advisers, Treasury Secretary Steven Mnuchin and Deputy Secretary of State John Sullivan will be at the ceremony.
The EU has voiced strong objections to the embassy move.
How have Israelis and Palestinians reacted?
President Trump's decision to recognise Israel as Jerusalem's capital and move the embassy is strongly supported by Israeli Jews across the often fractious political spectrum.
Palestinian Authority President Mahmoud Abbas, however, has described Mr Trump's decision as the "slap of the century". He says the US can no longer be considered a neutral broker in on-off Israeli-Palestinian peace talks and cannot have any future role.
In Gaza, Palestinians have held weekly protests, which have turned violent, in the run-up to their annual commemoration of what they call the Nakba or Catastrophe, when hundreds of thousands of their people fled their homes or were displaced following the foundation of the Israeli state on 14 May, 1948.
Hamas, which is in a state of conflict with Israel, had said it would step up protests in the lead-up to Tuesday, the official Nakba commemoration.
It says it wants to draw attention to what Palestinians see as their right to return to ancestral homes in what became Israel.
Israel says the protests are aimed at breaching the border, which it heavily guards, and attack Israeli communities nearby.
US Jerusalem embassy: Gaza clashes before controversial opening