Most polling stations have closed in the US mid-term elections, which will determine who runs Congress and shape President Donald Trump's agenda.
Democrats scored early wins in the fight for the House of Representatives, flipping two districts in Virginia and Florida.
They are battling to win control of both legislative chambers, presently held by Mr Trump's Republicans.
Governor posts and seats in state legislatures are also up for grabs.
Mr Trump is not up for re-election until 2020, but this poll is widely seen as a referendum on his presidency.
In suburban Virginia, Democrat Jennifer Wexton ousted incumbent Republican Barbara Comstock, while another Democrat, Donna Shalala, flipped a Florida constituency against Republican Maria Salazar, a news anchor.
All 50 states and Washington DC have been voting, and experts say turnout could be the highest for mid-term elections in 50 years.
The president kept up a stream of Twitter endorsements for Republican candidates throughout Tuesday, urging his supporters to get the vote out.
Barack Obama – on the campaign trail for the Democratic party on Monday – stressed the same, saying "the character of our country is on the ballot".
What's at stake?
Americans are voting for all 435 seats in the House of Representatives and 35 of 100 seats in the Senate – the two bodies that make up Congress. Governors are also being chosen in 36 out of 50 states.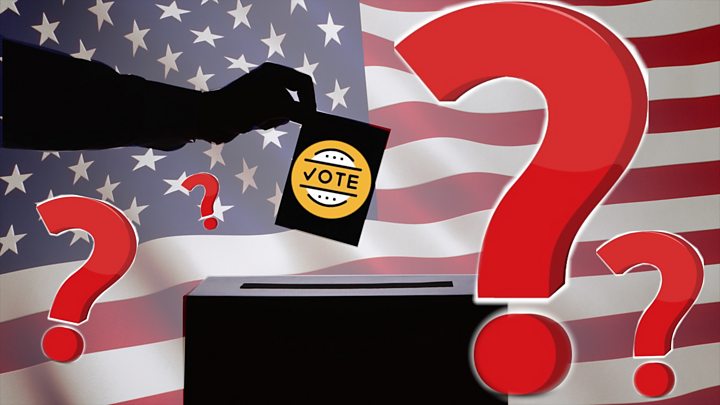 Pollsters predict Democrats may win the 23 seats they need to take over the House of Representatives, and possibly 15 or so extra seats.
But Republicans have been tipped to retain control of the Senate – they currently have a slim 51-49 majority, but only nine of the party's seats are up for grabs, while Democrats are defending 26 seats.
If Democrats do win the House, they are expected to launch investigations into Mr Trump's administration and business affairs, from tax returns to potential conflicts of interest, while thwarting his legislative agenda.
Asked on Monday how he would handle a lower chamber controlled by his political opponents, the president appeared to concede to reporters that it was a risk.
"We'll just have to work a little bit differently," said Mr Trump.
Warning signs in CBS exit poll
Analysis by Anthony Zurcher, BBC News
Overall, Donald Trump's approval rating among the electorate sits at 44%. If history is any guide, the party of a president with that level of support is in for a rough time in a mid-term election.
Perhaps the most striking finding of the poll is that 43% of American mid-term voters named healthcare as the top issue for them. Democrats have campaigned heavily on the topic – attacking Republican attempts last year to repeal Obamacare health insurance reforms. If that's what voters are thinking about, it's an indication that Democrats accurately had the pulse of the electorate.
Immigration, which has been Mr Trump's main focus in the final days of campaigning, is a distant second at 23%. The economy, which traditionally is at the top of voters' minds, is a close third with 21%.
How has voting unfolded?
After months of campaigning and billions of dollars in spending on adverts, leaflets and bumper stickers, voters came out in force.
Around 40 million people cast early ballots according to the US Elections Project, a University of Florida-based information source. That figure in 2014 was just 27.5 million.
In Texas, early voting exceeded the entire turnout in 2014.
Some states showed signs of being overwhelmed by the voter influx, however.
The Associated Press reported a wave of electronic voting machine failures and congested polling stations after voting opened – including in Georgia, Atlanta, Arizona, and New York.
Relief at social networks as defences hold
---
What you need to know about mid-terms:
---
A Homeland Security official said the department had received "sparse" reports of tech failure, but that there seemed to have been no significant impact on people's ability to vote.
Five races to watch
Kentucky's 6th district
Democratic candidate Amy McGrath, a retired Marine fighter pilot, has taken a lead in the vote count against third-term Republican Rep Andy Barr.
Mr Trump won there by double digits two years ago, so a Democratic victory would be a worrying sign for Republicans.
Florida's governorship
A left-wing progressive, Andrew Gillum, and a Trumpist conservative, Ron DeSantis, are battling to become Florida's governor.
It's a toss-up race in a state that is usually evenly divided.
The BBC's Anthony Zurcher witnessed the brutal, gloves-off run-up.
Georgia's governorship
Democratic candidate Stacey Abrams could become the first female African-American governor in the US. Her Republican opponent Brian Kemp's office has been accused of voter suppression.
To add to poll-day tensions, broken voting machines led to longer queues and a return to paper ballots in some parts of the state.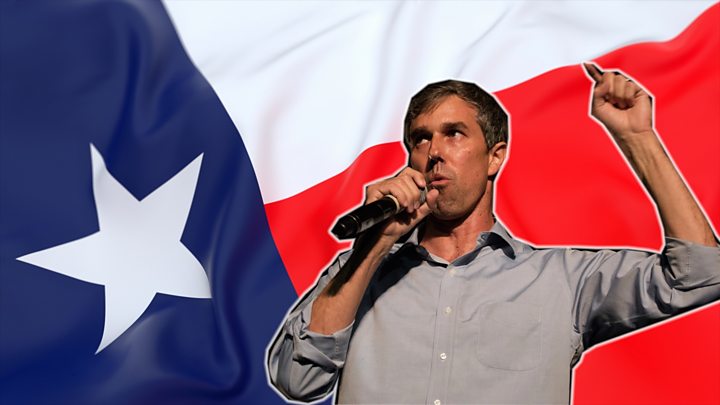 Texas Senate
This contest has received national media attention, with high-profile Republican Ted Cruz being closely challenged by Democrat Beto O'Rourke.
Mr O'Rourke is viewed as a rising star in the party and, if he wins, would become the first Democratic senator in Texas for more than two decades.
Arizona Senate
This race is as close as they come. Martha McSally, a two-term Republican representative from Arizona, is running against Democrat Kyrsten Sinema.
Whoever wins will make history by becoming the first woman to represent the state in the Senate.
US mid-term elections 2018: Early wins for Democrats