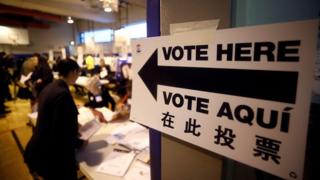 Polling stations are beginning to close in the US mid-term elections, which will determine who runs Congress and shape President Donald Trump's agenda.
Democrats have been battling to win control of the two legislative chambers, where Mr Trump's Republican party currently holds sway.
Governor posts and seats in state legislatures are also up for grabs.
Mr Trump is not up for re-election until 2020, but this poll is widely seen as a referendum on his presidency.
Indiana and Kentucky will be among the first to report, and early signs of where the night is heading could spring from Kentucky's Lexington-area (6th district), where Mr Trump won comfortably in 2016.
All 50 states and Washington DC have been voting, and experts say turnout could be the highest for mid-term elections in 50 years.
The president kept up a stream of Twitter endorsements for Republican candidates throughout Tuesday, urging his supporters to get the vote out.
Barack Obama – on the campaign trail for the Democratic party on Monday – stressed the same, saying "the character of our country is on the ballot".
What is at stake?
Americans are voting for all 435 seats in the House of Representatives and 35 of 100 seats in the Senate – the two bodies that make up Congress. Governors are also being chosen in 36 out of 50 states.
If Republicans maintain their hold on both the Senate and the House of Representatives, they could help President Trump press on with his agenda.
But if the Democrats wrest control of one or both chambers, they could stymie or even reverse Mr Trump's plans.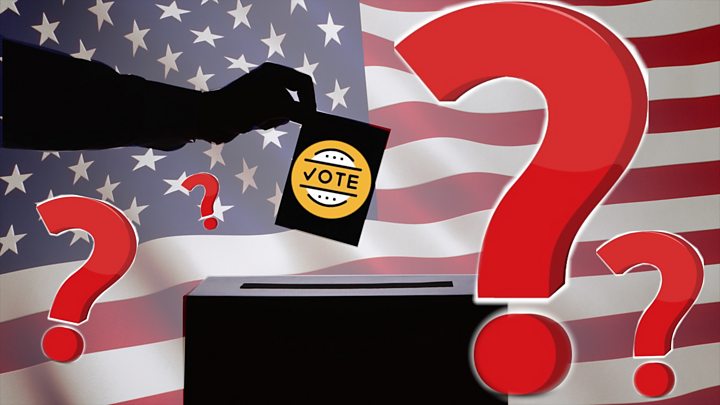 Pollsters predict Democrats may win the 23 seats they need to take over the House of Representatives, and possibly 15 or so extra seats.
In the Senate, Democrats are expected to fall short: they would need to keep all their seats and claim two Republican ones to win control.
Asked on Monday how he would handle a lower chamber controlled by his political opponents, the president appeared to concede it was a risk.
"We'll just have to work a little bit differently," he told reporters.
How has voting unfolded?
After months of campaigning and billions of dollars in spending on adverts, leaflets and bumper stickers, voters came out in force.
Around 40 million people cast early ballots according to the US Elections Project, a University of Florida-based information source. That figure in 2014 was just 27.5 million.
In Texas, early voting exceeded the entire turnout in 2014.
Some states showed signs of being overwhelmed by the voter influx, however.
The Associated Press reported a wave of electronic voting machine failures and congested polling stations after voting opened – including in Georgia, Atlanta, Arizona, and New York.
---
What you need to know about mid-terms:
---
A Homeland Security official said the department had received "sparse" reports of tech failure, but that there seemed to have been no significant impact on people's ability to vote.
Five races to watch
Kentucky's 6th district
The first polls closed at 18:00 EST (23:00 GMT) in Kentucky.
The race for the 6th district is between third-term Republican Rep Andy Barr and the Democrats' retired Marine fighter pilot Amy McGrath.
Mr Trump won there by more than 15 points two years ago, so a Democrat victory would be a worrying sign for Republicans.
Florida's governorship
A left-wing progressive, Andrew Gillum, and a Trumpist conservative, Ron DeSantis, are battling to become Florida's governor.
It's a tight race in a state that is usually evenly divided, so the result will also be looked at as a harbinger of things to come.
The BBC's Anthony Zurcher witnessed the brutal, gloves-off run-up.
Georgia's governorship
Democratic candidate Stacey Abrams could become the first female African-American governor in the US.
Republican opponent Brian Kemp's office has been accused of voter suppression.
The contest has been divisive, and you can read more about how it developed here.
To add to poll-day tensions, broken voting machines led to longer queues and a return to paper ballots in some parts of the state.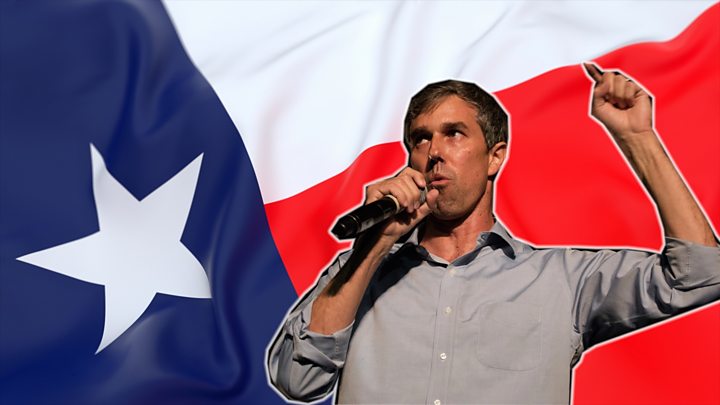 Texas Senate
This contest has received national media attention, with high-profile Republican Ted Cruz being closely challenged by Democrat Beto O'Rourke.
Mr O'Rourke is viewed as a rising star in the party and, if he wins, would become the first Democratic senator in Texas for more than two decades.
Arizona Senate
This race is as close as they come.
Martha McSally, a two-term Republican representative from Arizona, is running against Democrat Kyrsten Sinema.
Whoever wins will make history by becoming the first woman to represent the state in the Senate.
What are the key issues?
During his final campaign rallies in Ohio, Indiana and Missouri, Mr Trump returned to his key campaign issues, insisting that Democrats would damage the economy and allow more illegal immigration.
Democratic candidates, meanwhile, tended to avoid directly confronting the president, focusing instead on so-called "kitchen table" issues, such as healthcare and economic inequality.
The party hopes that younger voters, suburban moderates and minorities will have been drawn to the polls to react against the president's rhetoric.
Mr Trump has faced widespread criticism for his divisive language.
On Monday, Facebook, NBC and even Mr Trump's favourite network, Fox News, announced they would stop broadcasting a 30-second ad paid for by his campaign, which featured an undocumented Mexican immigrant.
In an interview with ABC on Monday, the president said he wished he had taken "a much softer tone" throughout his presidency.
"I feel, to a certain extent, I have no choice, but maybe I do, and maybe I could have been softer from that standpoint."
US mid-term elections 2018: Signs of big turnout